Vietjet launches 8 NEW ROUTES simultaneously, kicking off the 'hot' summer
Succeeding the mission of connecting the sky, taking people and tourists to explore all gorgeous destinations in Vietnam, the new generation of Vietjet jubilantly welcomes the first flights linking the worth-living city Da Nang with Phu Quoc, Da Lat, Buon Ma Thuot (Dak Lak), Vinh, Thanh Hoa; Hanoi with Dong Hoi; Hai Phong with Quy Nhon (Binh Dinh); Vinh with the pearl island – Phu Quoc.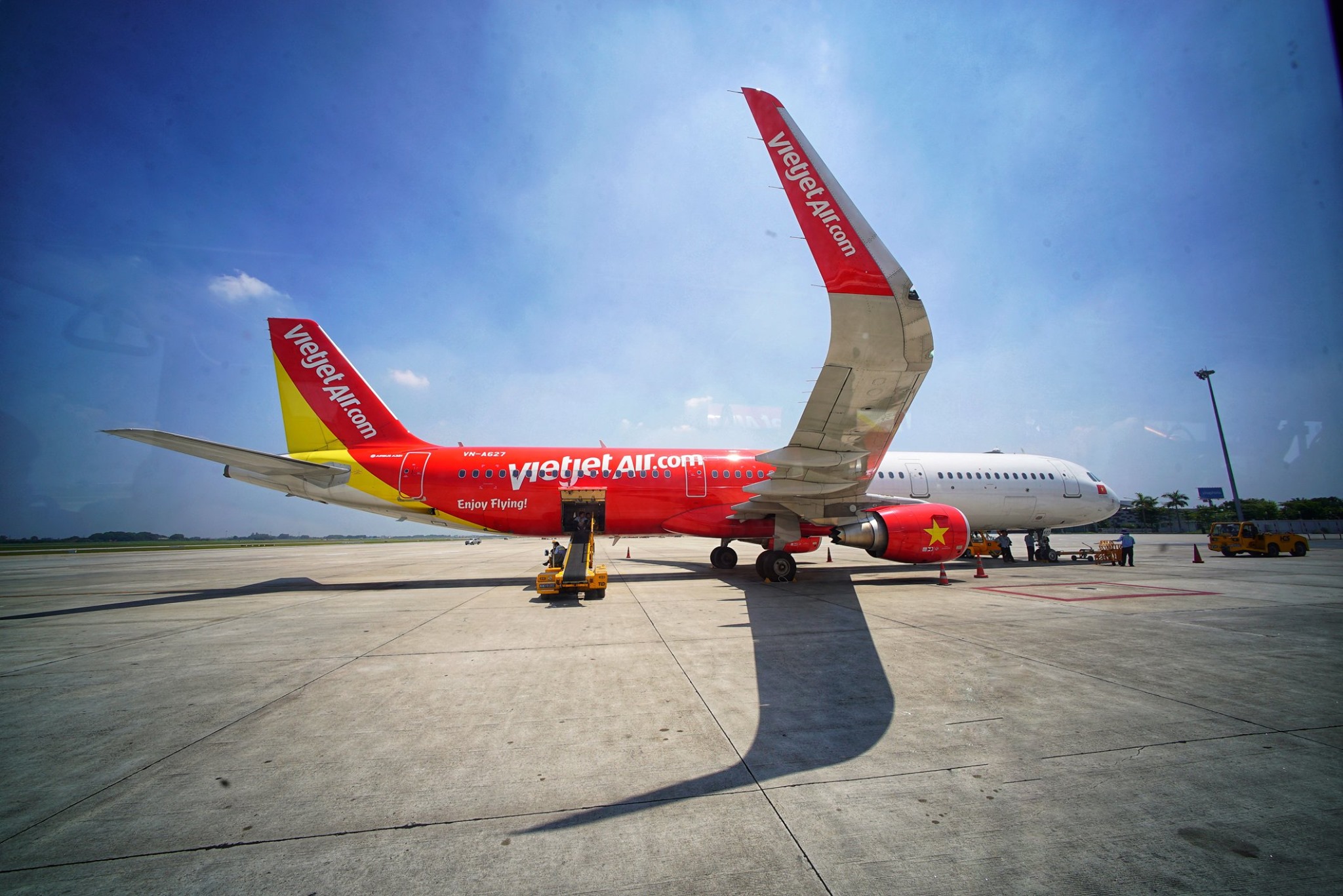 At Danang International Airport, Mr. Do Xuan Quang – Vietjet Deputy General Director and Da Nang city leaders welcomed and gave flowers to the first passengers on Vietjet's inaugural flight series.
With 5 out of 8 new routes to the most livable city in Vietnam, Da Nang has become the largest hub in the Central region with 10 flight routes to cities and provinces across the country, opening more opportunities for heritage tourism paths in the Central region, boosting the economic development of the Central Vietnam – Central Highlands…
The new flights are also ready to take visitors from the cultural capital Ha Noi to Nhat Le and Bao Ninh pristine beach in Dong Hoi in just 1 hour 5 minutes; from historic Vinh city, it only takes 1 hour 40 minutes to reach Phu Quoc the Pearl Island while it is only 1 hour 30 minutes from Hai Phong port land to explore the 72km coastline in Quy Nhon.
Routes from Danang to Da Lat / Phu Quoc / Vinh, Hanoi – Dong Hoi, Hai Phong – Quy Nhon are operated daily. The Vinh – Phu Quoc route is scheduled 5 times / week on Mondays, Wednesdays, Thursdays, Fridays and Sundays. The Danang – Buon Ma Thuot route is operated 4 times / week on Mondays, Wednesdays, Fridays and Sundays. The Danang – Thanh Hoa route is activated 3 times / week on Tuesdays, Thursdays and Saturdays. Diversified and flexible flight schedules will certainly meet the travel needs of millions of people and travelers across the country.
Vietjet pioneered to open new flights in response to the tourism stimulus program "Vietnamese people travel Vietnam", creating significant changes, contributing to the economic and tourism recovery of localities to which the airline has a flight route.
As an airline for people and tourists, Vietjet constantly launches many new routes to bring more opportunities to air travel at a reasonable price. With the spirit of "Safe – Fun – Affordable – Punctual", Vietjet is proud to bring passengers exciting experiences on new aircraft with soft leather seats, 9 delicious hot and fresh dishes, beautiful and friendly flight attendants as well as many other modern utilities on e-commerce platform.
Lương Vy
Latest Posts