The First Pacific Alliance Film Festival In Da Nang, Vietnam
The First Pacific Alliance Film Festival In Da Nang, Vietnam
In order to express the deep friendship between the member countries of the Pacific Alliance and Vietnam, the Embassy of Chile, Colombia, Mexico and Peru will co-organize the Pacific Alliance Film Festival from December 6  to December 8, 2019 in Danang City. This is the first time the Embassies of these countries have jointly organized a film festival with the support of the Danang People's Committee and the Da Nang Cultural and Cinema Center.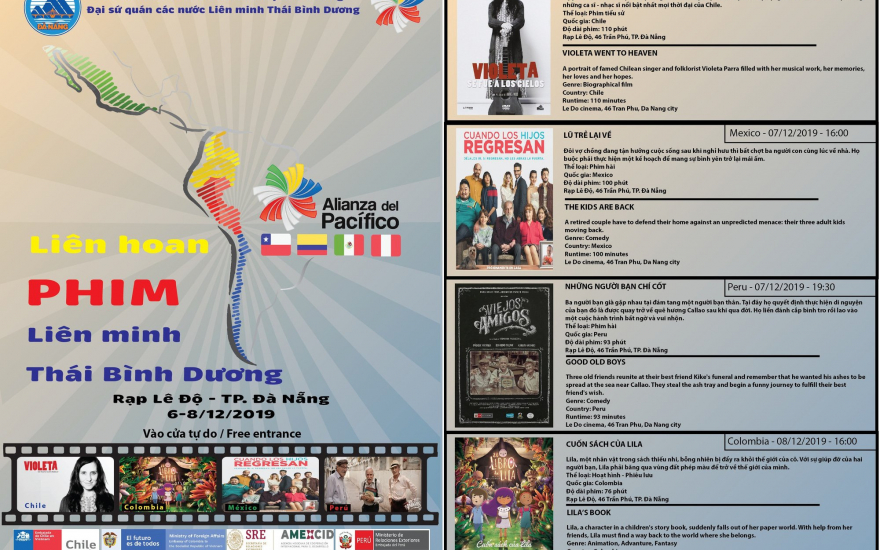 Pacific Alliance Film Festival will help the public and visitors to learn about people and cultural values ​​of 4 countries in the Pacific Alliance through cinematographic works: Violeta went to heaven – Violeta se fue a los cielos (Chile), The kids are back – Cuando los hijos regresan  (Mexico), Good old boys – Viejos amigos (Peru) and Lila's Book – El libro de Lila (Colombia).
Pacific Alliance Film Festival will take place at Le Do Cinema, 46 Tran Phu, free entrance and all films are with Vietnamese subtitles./.
| | | |
| --- | --- | --- |
| | Movie | Screening time |
| 1 | Violeta went to heaven – Violeta se fue a los cielos | 19h30, 06/12/2019 |
| 2 | The kids are back – Cuando los hijos regresan | 16h00, 07/12/2019 |
| 3 | Good old boys – Viejos amigos | 19h30, 07/12/2019 |
| 4 | Lila's Book – El libro de Lila | 16h00, 08/12/2019 |
Binh Phan – The First Pacific Alliance Film Festival In Da Nang, Vietnam
Latest Posts