Putting into operation spiritual tourism at Ba Na Hills

On 27th January, the spiritual tourist area of Ba Na Hills has officially been put into operation to add a more attractive tourist attraction for tourists in the spring travelling journey at Giap Ngo Tet 2014.
From the foothills, visitors will use the cable route No.3 to the top of Ba Na Hills directly, to the Linh Chua Linh Tu Temple (also known as Ba Chua Thuong Ngan Temple) – where worshipping the sacred Lord of the whole Ba Na mountain area. Visitors here can enjoy the landscape of purity and worship for peace, luck for the whole family.
Then, tourists can visit the Linh Ung Pagoda which is popularly sacred. At the height of 1,400 m on Ba Na Hills, Linh Ung Pagoda has the same architectural design with Tam Thai Pagoda (Marble Mountains). Linh Ung Pagoda was built not only to preserve the spiritual values and perform rituals, but also to be a great tourist attraction thanks to the surrounding landscape and unique architectural marble carvings.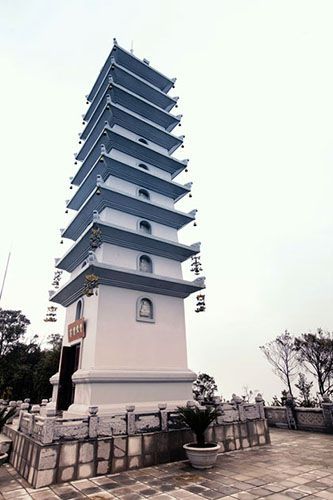 On this occasion, tourists to Ba Na Hills will also have the opportunity to visit and admire the bell tower built in the style of the Buddha with the 4 tons bronze bell weight casted at Ba Na sacred peak.
In addition, tourists can enjoy the beauty of Nghinh Phong Tu 9 floor towers at the top of Ba Na Hills (each floor has 4 bronze bells hung in the four corners). Beside the Bell tower is the house of Stele which has just been completed after 6 months construction. Inside the house, there is the hexagonal stone stele with 1.8 meter high, on its face; they carved romantic poems about natural beauty of Ba Na and Da Nang city.