Danang participates in World Travel Mart 2014

World Travel Mart 2014 (WTM 2014) is held from 3 to 6 November 2014 at Excel Exhibition Center, London. In the cooperation with Vietnam National Administration of Tourism (VNAT) and Vietnam Airlines, Danang has chance to take part in many activities to promote its tourism to Europe.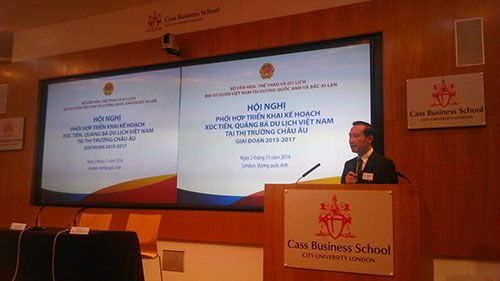 With more than 50,000 global travel professionals, WTM is one of the leading travel events which offers opportunities to introduce your products, make partnerships and meet potential clients…
As of September 2014, the number of UK tourist to visit Danang is 19,070 people, ranking 7 of top ten markets. In addition to this, the total number of European tourists in top ten markets reaches 45,374 people. Europe is specified as one of major markets to boost promotion, so the participation in WTM 2014 is the high opportunity for Danang to introduce the destination and attract European tourists to Danang and Central Coast of Vietnam.
In the team with VNAT, Danang has worked with UK National Travel Agency and Travel Associate as well as held the press conference about Vietnam Tourism on 4 November.
There are more than 100 activities to be held in 4 days for the meeting of partners. Two conferences is held to mentioned about health tourism, a new trend combining tourism with beauty and medical services, and the role of smart phone in tourism.
Vietnam set up the stall with the area of 110m2, emphasizing the theme "Exciting Vietnam", a campaign launched on July 2014. There is also an photo exhibition about famous destinations in Vietnam and a cocktail party for partners.
Chi Giao