Danang city takes lead in 2013 PCI ranking

Da Nang has climbed from 11th position in Viet Nam's annual Provincial Competitiveness Index (PCI) in 2011 to top of the rankings in 2013. This information was released by the Viet Nam Chamber of Commerce and Industry (VCCI) and the US Agency for International Development (USAID) at a meeting held in Ha Noi on Thursday morning.
This is the fourth time that the city has topped this ranking, including the three consecutive years from 2008 to 2010.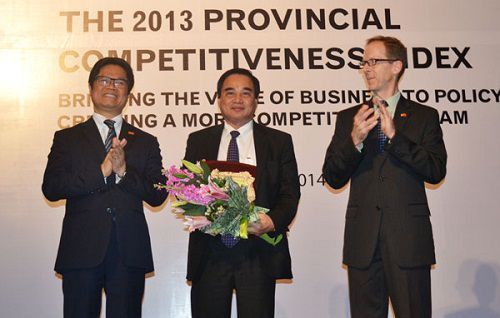 According to the 2013 PCI ranking, the city scored 66.45 points, 4.74 points higher than the previous year. As compared with 2011, the city improved in 8 out of the 10 PCI assessment criteria. In detail, the city recorded 7.98 points for access to land use, time costs scored 7.86, unofficial costs 7.50, competitive equality 5.82, the activeness of the local authorities 7.72, the support services for businesses 5.36, personnel training 6.53, and legal institutions 6.60 points.
Addressing the event, the Chairman of the municipal People's Committee, Mr Van Huu Chien, affirmed that Da Nang's PCI ranking is proof of the effective management of the city's authorities in all districts. In addition, this will help local policy makers and enforcement forces improve their qualifications to create a very favourable business climate for domestic and foreign investors. Chairman Chien also vowed that local authorities would boost administrative reform to enable businesses to operate effectively. Moreover, the city will do its utmost to promote its image at home and abroad, as well as make it a modern, dynamic and creative city in Viet Nam