The Man Behind the Films Promoting Da Nang Culture and Tourism
Nguyen Tran
In the early days of 2021, a documentary film titled "The Love of Da Nang's People" was broadcast on the government TV station, ANTV, sharing many beautiful feelings about the land and people of Da Nang. The film tells the story of the most difficult days of the Covid 19 outbreak, a time when the whole city was engulfed in silence, worried about the onslaught of the virus. The happy sounds of a bustling beach town, the laughter of the people, the tourists enjoying an exciting summer day … these were all extinguished in the blink of an eye. However, this event also revealed also revealed Da Nang's unity, sense of community, and humanity, shining through this dark time.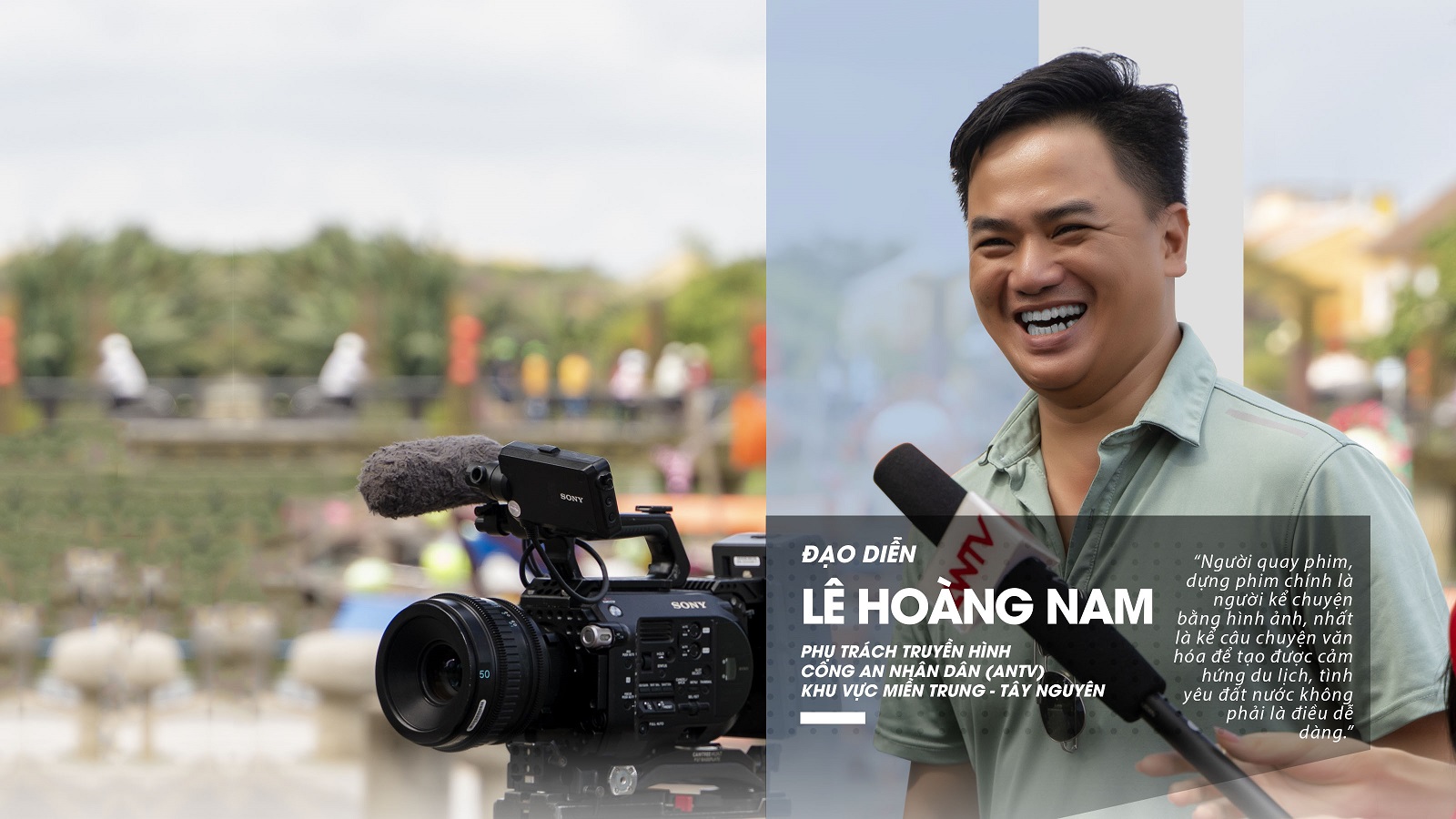 Director Le Hoang Nam, in charge of the People's Public Security Television (ANTV) in the Central Region – Central Highlands.
One man, who was able to capture emotional footage of this period and turn it into an insightful documentary, is director Le Hoang Nam, in charge of the government TV station ANTV in the Central region and Central Highlands. Over the past 10 years, he has also been behind the creation of many promotional videos, short films, music videos, and documentaries that introduce the history, culture, people, and essence of Da Nang. Da Nang Tourism had a short talk with him about his profession and his history in filmmaking, as well as the special love of the people of Quang Nam and Da Nang for his and their homeland.
What led you to making films about culture and tourism, and what keeps you involved in this genre? 
Director Le Hoang Nam: When I talk about how I got to where I am, I can't neglect where I came from. Before working at ANTV, I used to work in the filming room of Da Nang Television and Radio Station (DRT). You could say it was my first vocational school, where I encountered all the tools and technology of the field for the first time, and learned to "see life through a lens".  Back then, I wondered why the most beautiful and magnificent images always seemed to come from the major national and international TV stations, and not from local channels.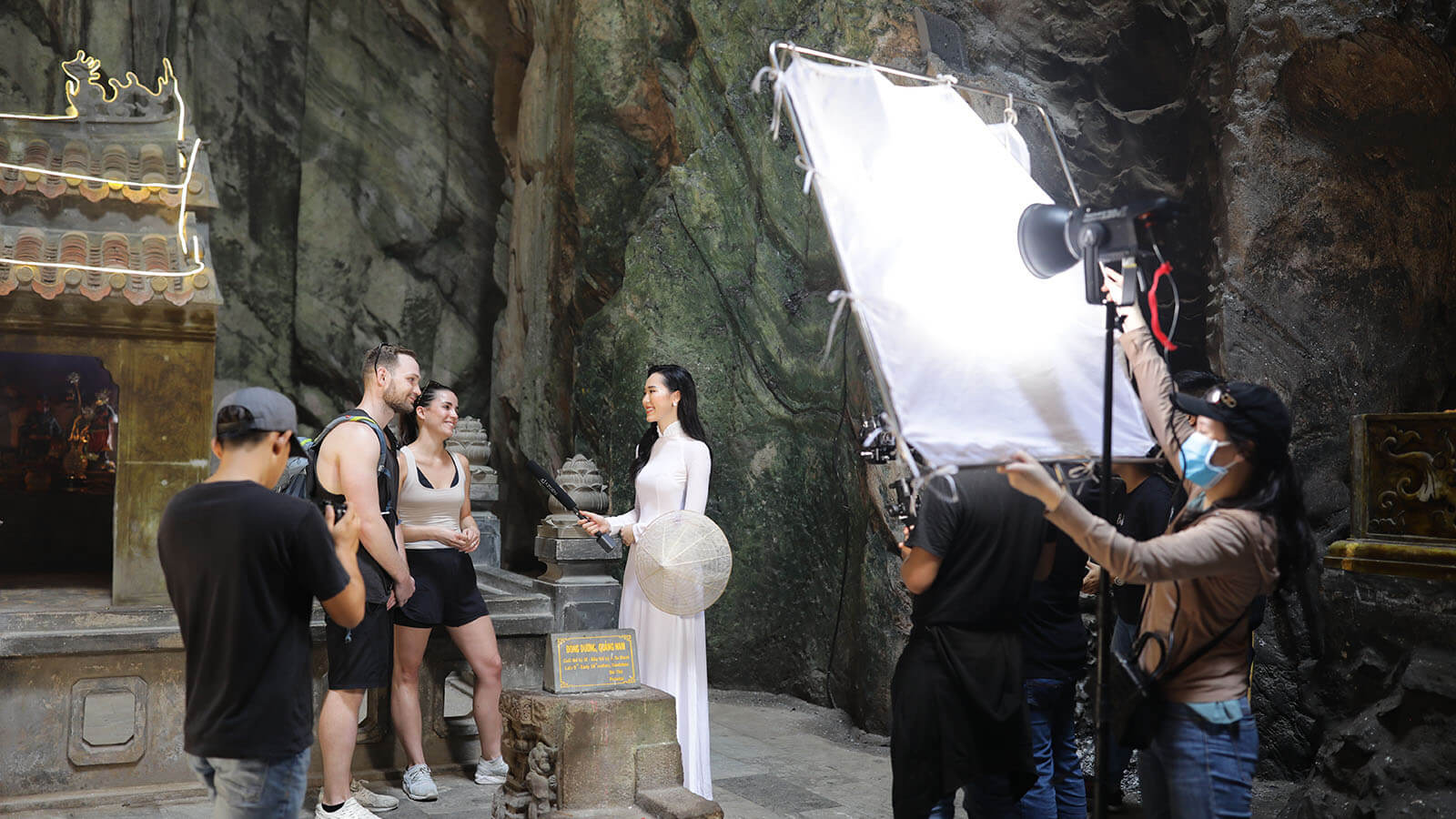 As I gradually learned my trade, I came to realize that that beauty of those images were not necessarily the result of better funding or technology, but were ultimately the result of the willingness to experiment and learn new things.When I work as an editor on a cultural program, I often invite my colleagues to shoot at hours they don't expect, such as early morning or late afternoon and into the evening. For me, these are the perfect times, golden opportunities to catch all the best moments of the city. Similarly, as I grew in this field, I tried to research and learn more. I edited my own movies, wrote content scripts, and gradually shaped my own style. In particular, during my time at DRT, I had a teacher who greatly influenced me, making me think seriously about my current job as well encouraging me to form a clear direction for the future. That teacher was People's Artist Huynh Hung. From my travels, the videos I made with my uncle, and the opportunities entrusted to me, I have learned a lot about filmmaking, and the importance of the mind to the profession.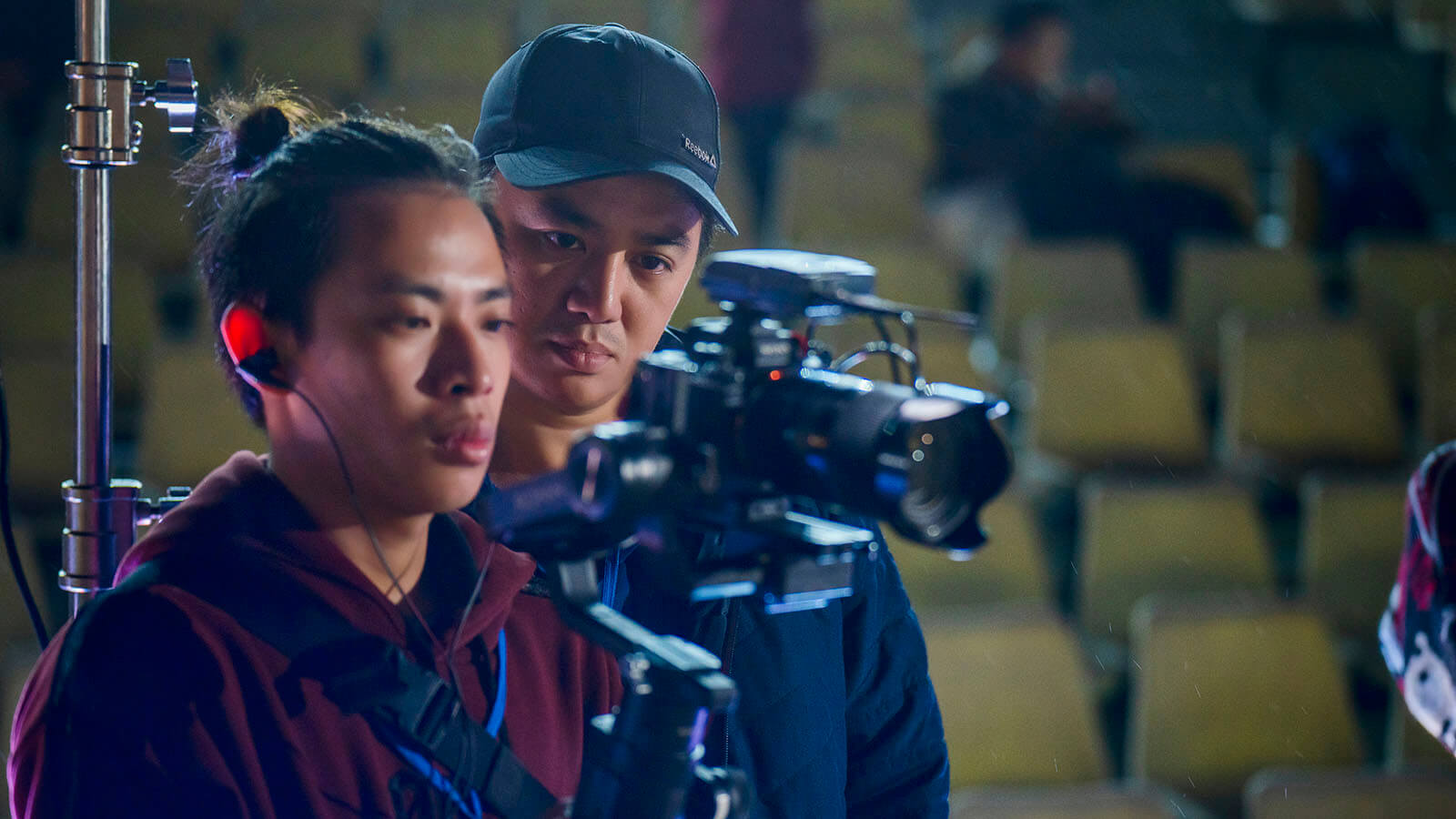 What makes me feel excited, happy, creative and have a long-term commitment to working on promotional videos and short films promoting Da Nang, is simply love, faith and hope for the city. A love with many levels, ups and downs, happiness and sadness, but generally a pure emotional attachment, wanting to dedicate myself and help my hometown. This is what I want viewers of my work to understand and feel. My films about Da Nang are shown at the airports, tourist destinations, and venues for tourism and investment promotion. They are well received, evoking many wonderful feelings from both locals and tourists, and this is the driving force for me to do better, to be more worthy of their appreciation.
What is the difference between the various films made by you and your crew, and what is their attraction?
The first promotional film I did about Da Nang was in 2015, a pretty impressive and new video at that time. Next, I had the opportunity to make films to show at the APEC 2017 event, for an audience of politicians and high level international businessmen. That phenomenal opportunity helped me to be my best, and honed and raised the level of my skills significantly. I am also fortunate to have had the opportunity to cooperate with Da Nang's different departments, agencies and units to make a lot of films to promote the city's culture, heritage and tourism, with more than 30 different films of various lengths.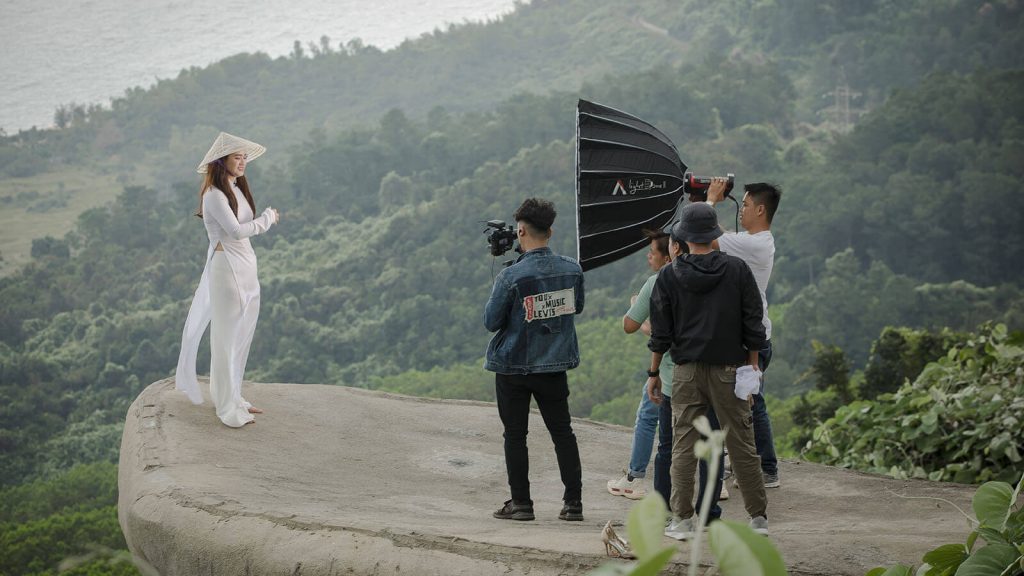 Through that journey of filmmaking, I realized that, to develop and get closer to the public, cultural tourism needs a communication tool powerful enough to easily penetrate to the soul and subconscious of people, inspiring them to discover and experience. What makes the difference, especially for the movies about culture, is that each land has its own unique beauty, its own characteristics. For example, Da Nang, in addition to the modern, bustling, youthful and dynamic elements, is also a culturally and environmentally rich city, with the Cham Museum, Tuong Traditional Theater, Ngu Hanh Son, and Son Tra.  Hue and Quang Nam too, each place has special and unique cultural values. It is important that I understand and feel those values, so as to be able to condense and convey them to viewers through images and stories. It is not easy to tell stories with pictures, especially to tell cultural stories to inspire tourism and the love of a place. It requires me to carefully study the topic and the content, to absorb the values hidden from the casual observer. It is very important to be aware that understanding and harmony with your subject is the key to creating your message and conveying the feeling of a place. This is also the 'secret' I try to convey and share with my colleagues.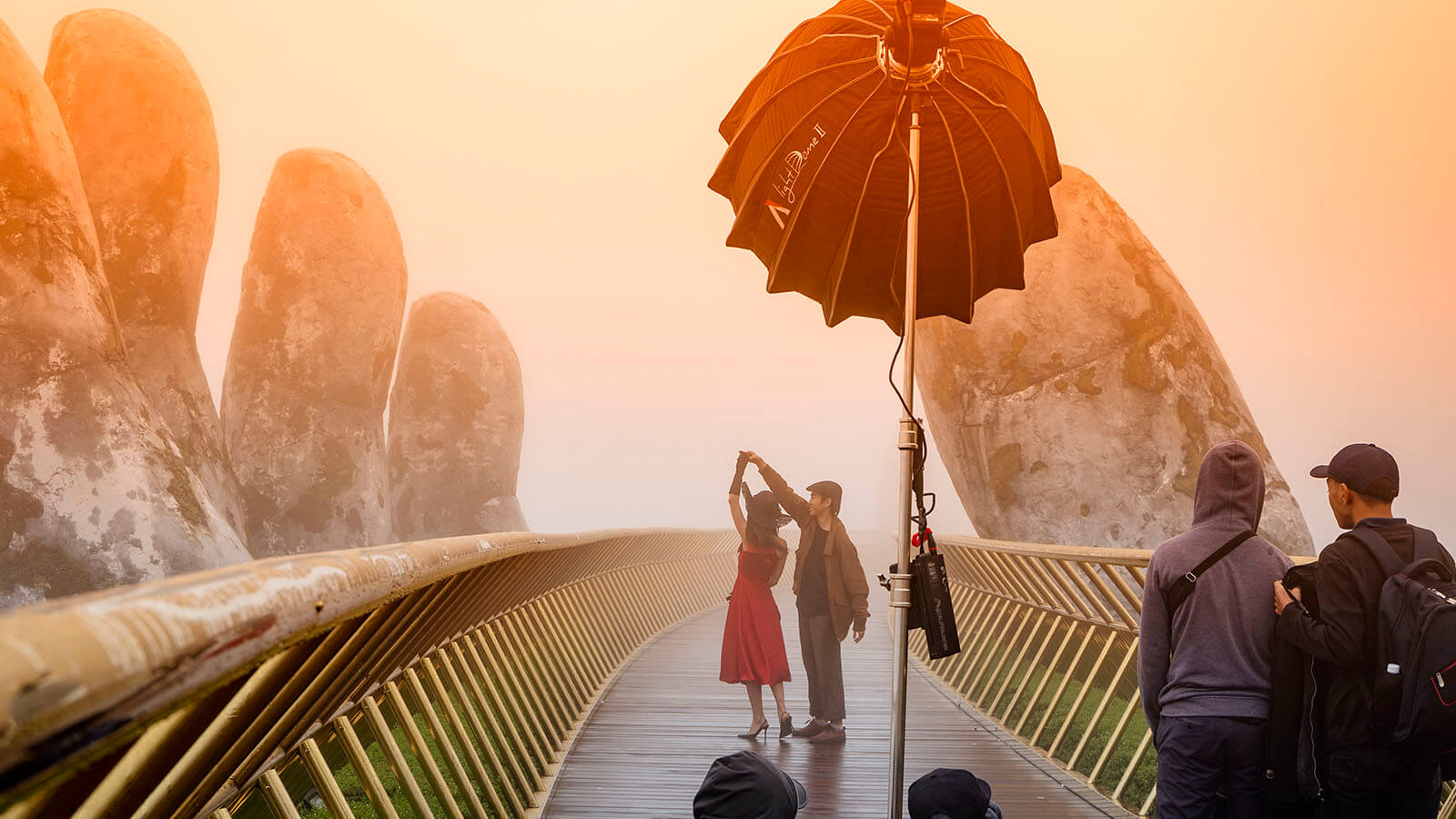 If we talk about filming and editing skills, nowadays there are a lot of good teams with contemporary perspectives, and I learn a lot from them. Nearly all of the short films I make to promote tourism in Da Nang, and also the region as a whole, behind them is a focus and investment in developing my skills, learning from international modern filmmaking methods. I always try to research  to find new, different and attractive things. Beyond this, I also try to convey in each movie a sense of affection, heart, understanding, and sincerity. In my films, I always add a hint of charm, a little love, and a bit of warmth. Perhaps, because of that, they are more appealing and interesting for viewers?
Những ấp ủ, dự định của anh trong năm mới?
The re-start of the global tourism industry after the pandemic will require each destination to make efforts in a variety of directions, with explosive, breakthrough ideas to create a new image and brand in the eyes of travelers. Myself, regardless of the circumstances, I always keep the dream of reaching the level of national and international films. The trend of tourism communication will be to accomplish a number of things on a minimal budget, meaning that units, businesses, and localities will find ways to reduce costs while ensuring the form and content of transmission is attractive, rich, and informative. That context requires each person to find a way to balance and reconcile everything, share and shoulder together the burden of effort needed for the common development of the destination. Currently, I and the crew are also interacting, supporting and sharing with travel agencies and businesses, working to overcome this difficult period to create a bright next stage.
Films, dramas, and music are effective promotional tools for tourism, used by many countries around the world. In Vietnam, the promotion of tourism through movies, video clips, and music videos has been developing strongly in recent years, sharing images of the land, people, destinations, landscapes, cuisine and cultural identity from all parts of the country.
Address: 28th Floor, Danang Administration Center, 24 Tran Phu Street, Hai Chau District, Danang City
Email: tapchidulichdanang@gmail.com
Contact: 0236.3840.019 (meet Mrs Que or Mrs Thao)
Service pack information on Magazines
Latest Posts