[Review] 5 Days 4 nights With Friends to wanderlust Da Nang – Quang Nam
[Review] 5 Days 4 nights With Friends to wanderlust Da Nang – Quang Nam
For guys who are planning to travel Danang – Quang Nam with low cost but still having memorable experiences, Bich Hien's review summarized all tips after the field trip with friends in March 2019. Of course there exists some difference in price or weather. However this is a good review!
4 of us have spent 5 days 4 nights in Danang after the flight from Saigon.
The total cost is 4 million/person for 5 days (including round-trip air tickets and entrance tickets for Sun World Ba Na Hills). I booked return air tickets on Traveloka with only 1.5 million. I booked Ba Na Hills ticket  and lunch buffet on Klook to get discount and skip the long queue (The price is 890k/person. Buffet is super delicious, clean and modern).
We fly out to Danang at 17:00. I had to contact the motorbike rental before leaving. Pick-up and drop-off at the airport (this is very convenient to rent a motorbike to move around and not waste money on taxi).
Right after arriving at the airport, I asked the bike rental services to bring the AB bike with price of 130k/day. Search Google "Anh Rang Car Hire " for more information.
Ater getting the bike, I headed to Hoi An which is about 30km from Da Nang. I booked a homestay "Halo Homestay" on Traveloka, which is very good quality, low price (450k room for 4 people), clean and available free bicycle rental.
Day 1: Hoi An – Tam Thanh Mural Village – Old brick kiln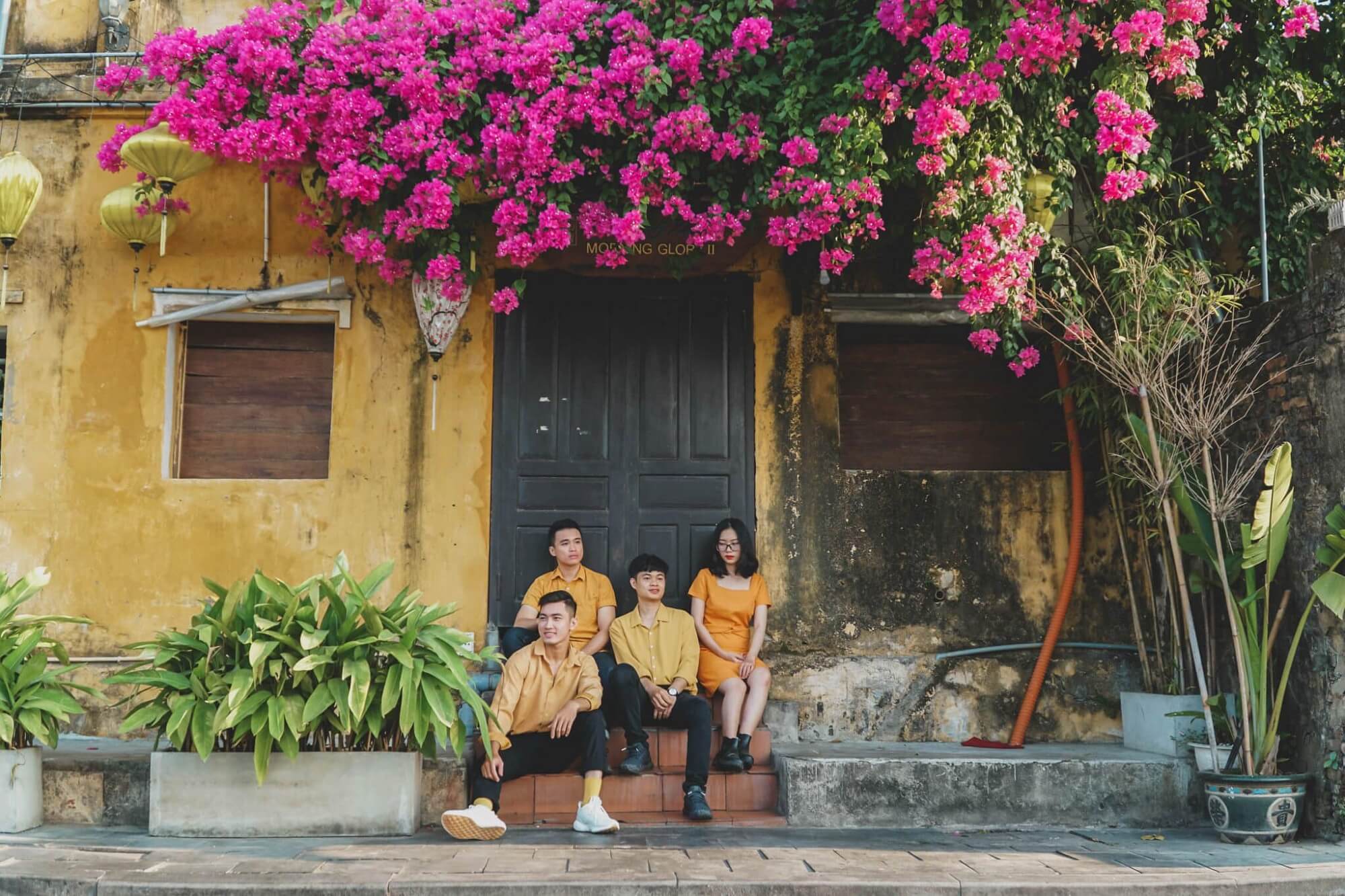 – We got up early in the morning and had Phuong bread which is super famous (20-30k). It was peaceful to take pictures of Hoi An in the early morning.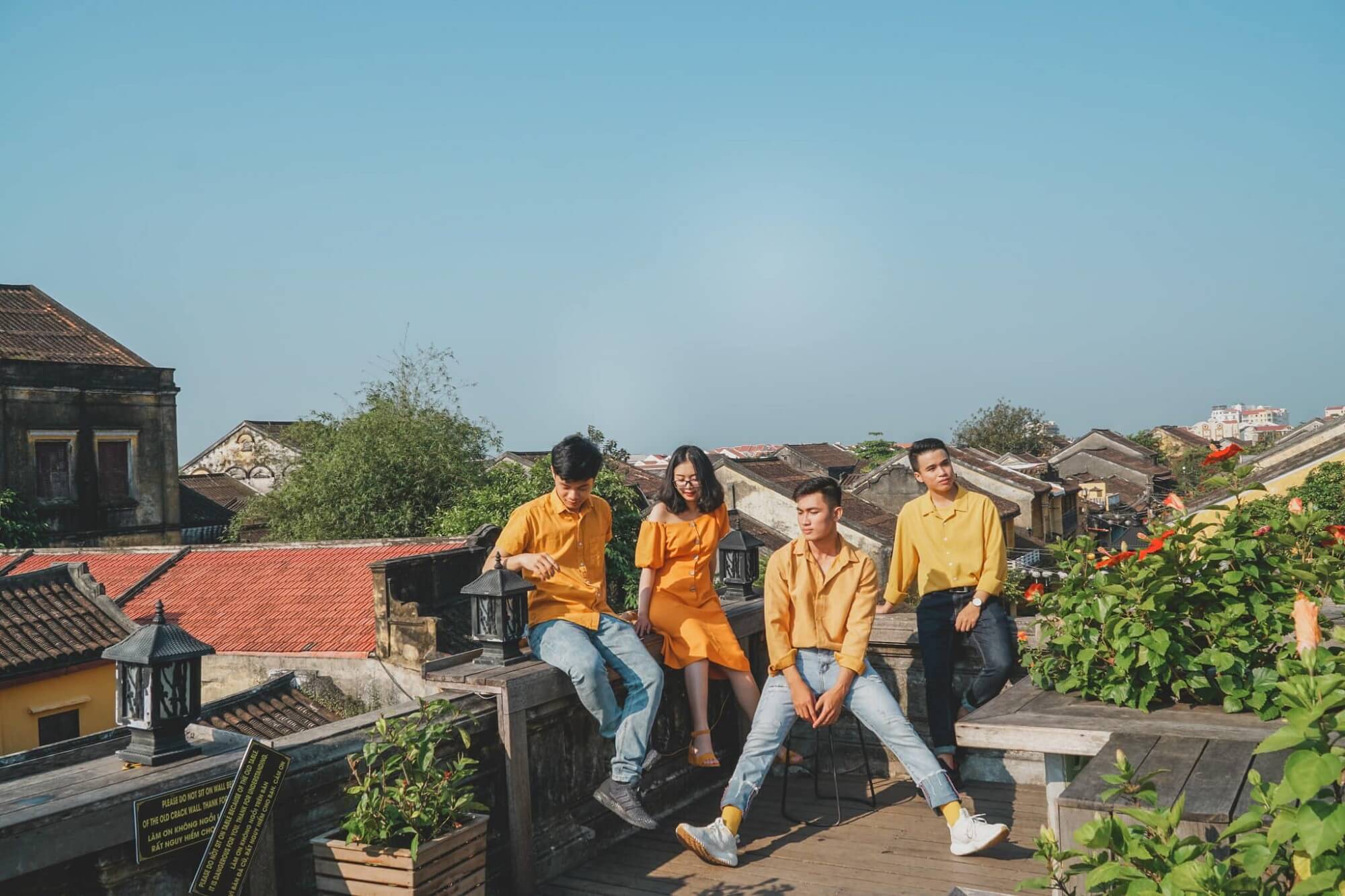 – At 8:00 am, I went to Faifo Coffee to take a view of Hoi An from above (enlisted early to avoid the crowd).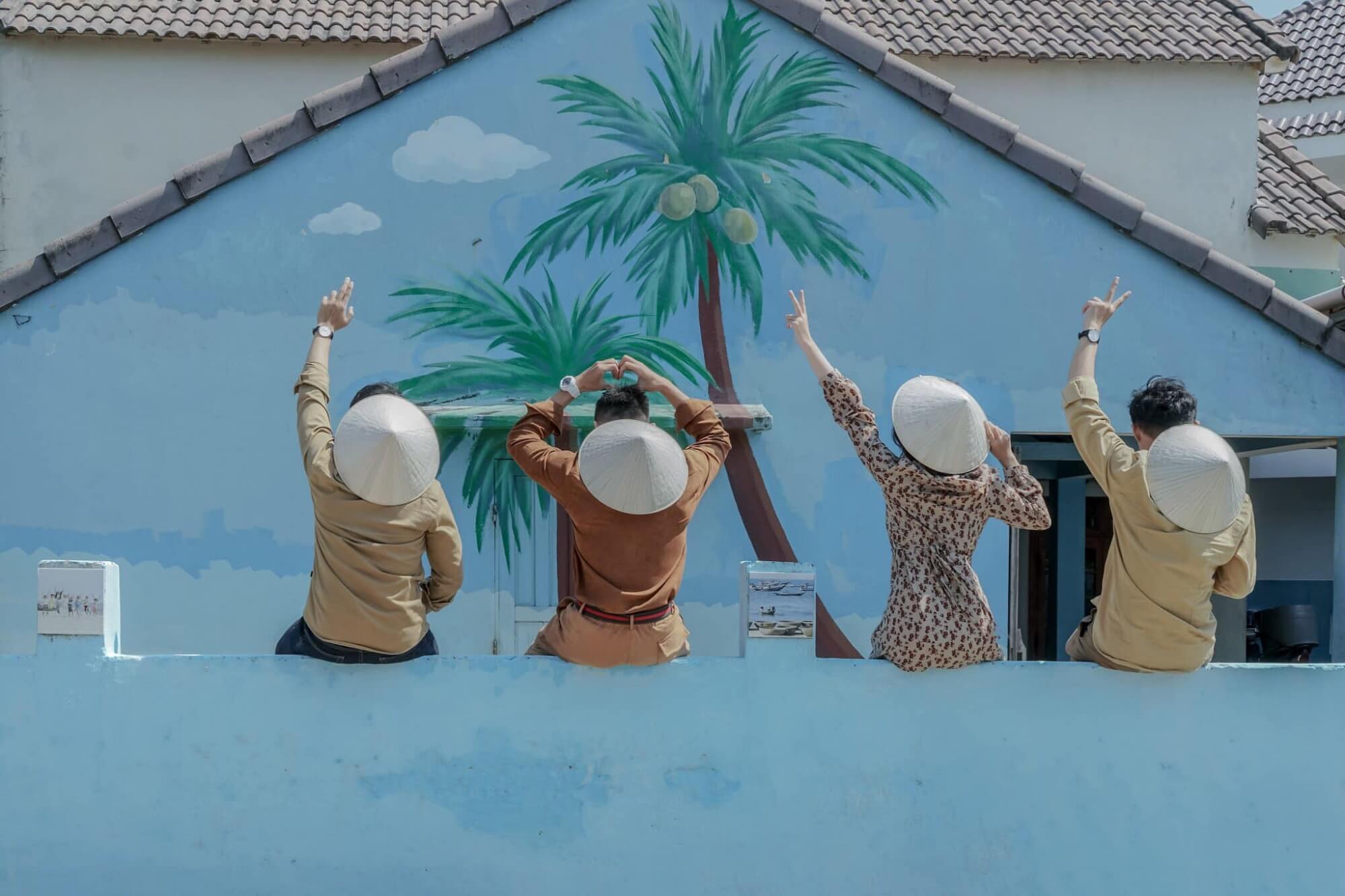 – At 10:00 am, we returned the Homestay to get change and went to Tam Thanh Mural Village (40km from Hoi An). Arriving at noon, in the village there are many parking places, drinks and have a rest.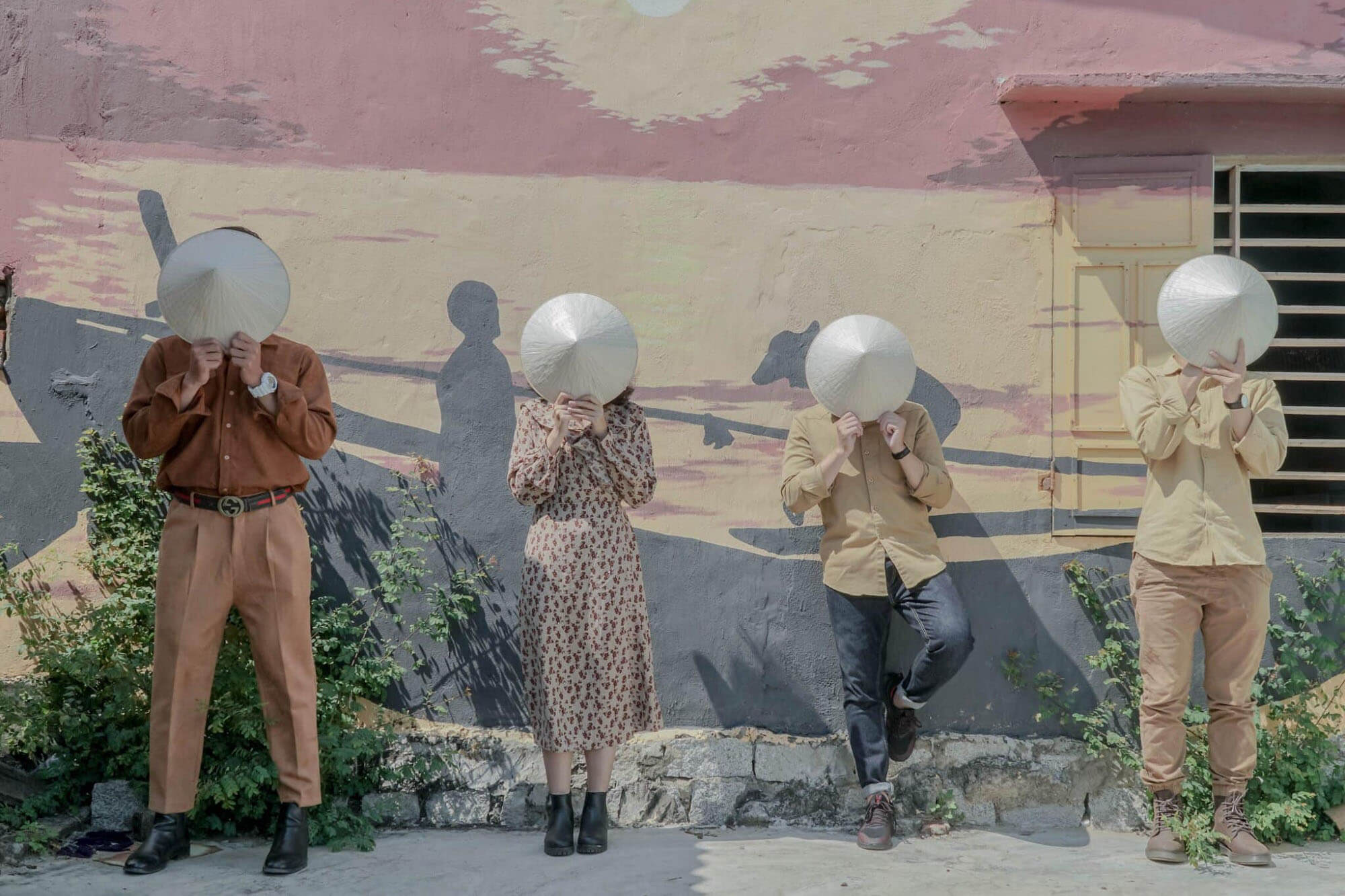 The village people were extremely likable and friendly.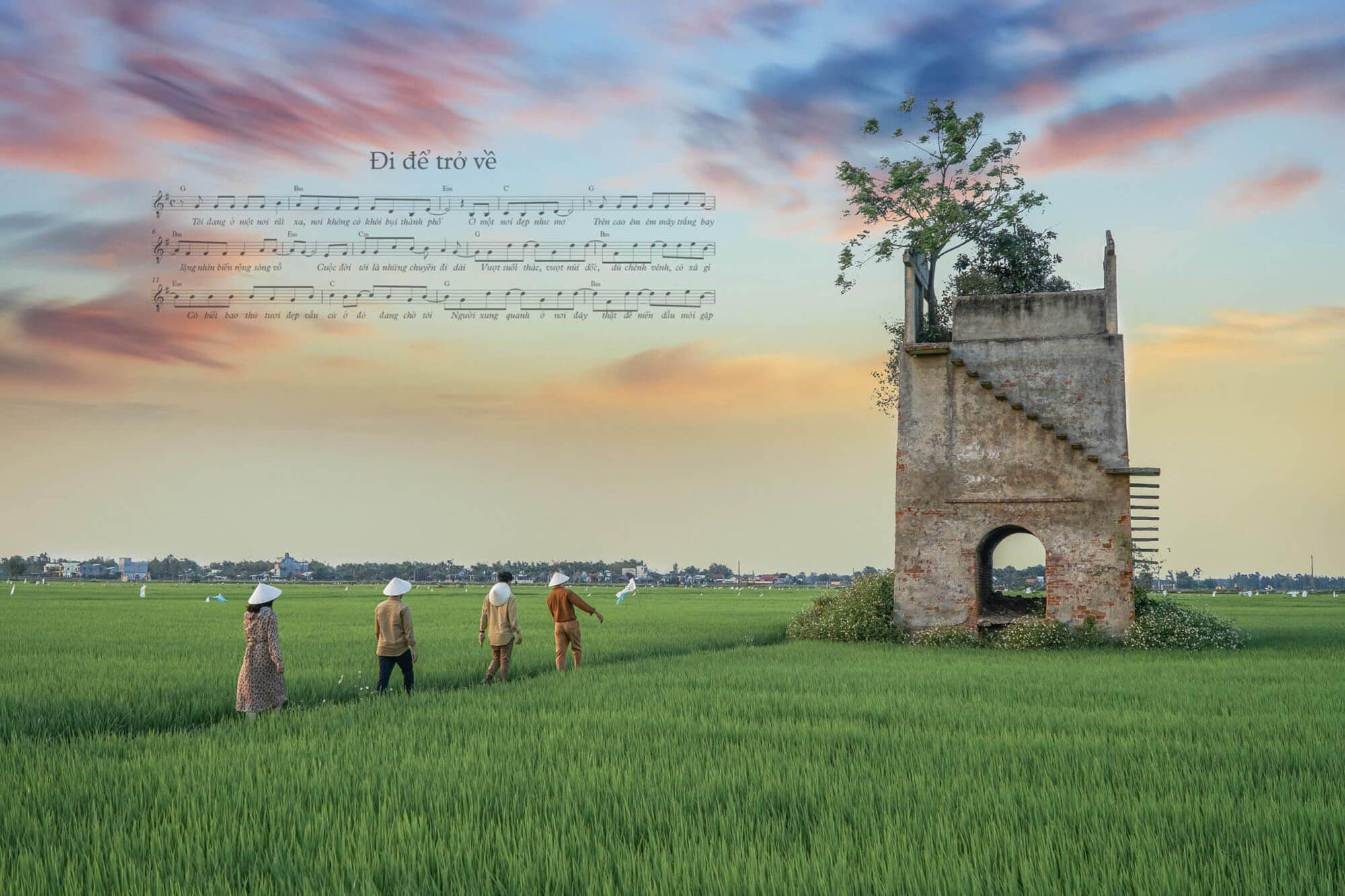 – In the afternoon, I visited the old brick kiln. You should seek for "old brick kilns Duy Vinh" on Google Map.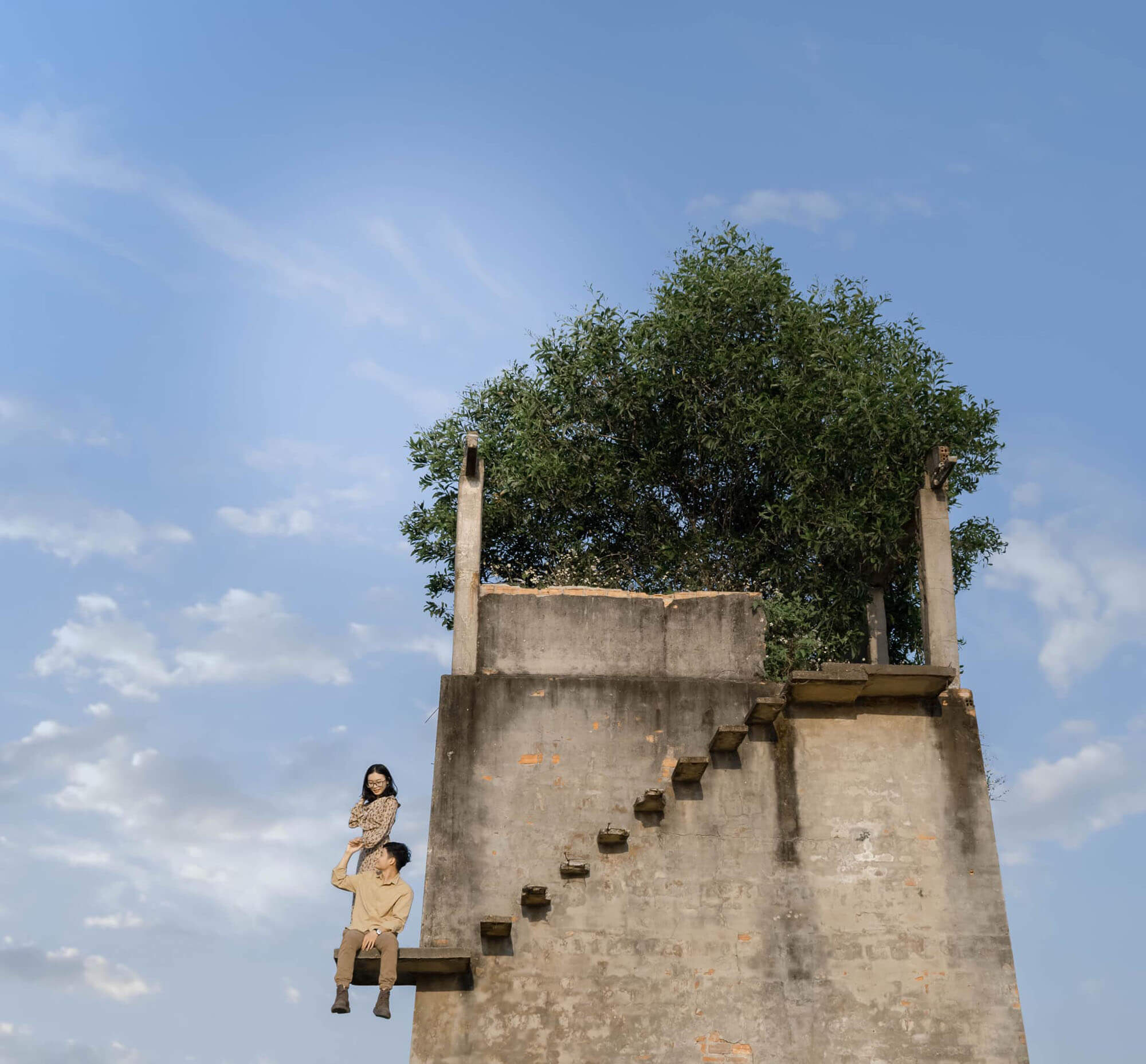 Currently, there limited the crowd and people climbing up the brick kilns so you should consider carefully before coming here. (Some stairs are broken to prevent people and tourists from climbing up)
– In the evening, I ate Xi chicken rice (47/2 Tran Hung Dao, 20k). It was very good.
– Then we visited Hoi An at night with sparkling lanterns. It was nice to take a boat on Hoai river to drop lanterns. Snacking on the walkway is also great (remember to ask for the price first).
– Hoi An got off the lights early, around 10 pm the shops began to close.
Day: Hoi An – Đa Nang
– We had another early day to walk around Hoi An. There you had to get up early when the shops are closed to feel the true ancient and peaceful ambience.
– Breakfast Sinh's Quang noodles (170/5 Ly Thuong Kiet, VND 25k). Quang Noodle with chicken, beef, very good quality.
– I spent the whole morning continuing to explore Hoi An.
– At noon, around 11am, we went back to Homestay for rest, pack and check out at 12h to go to Danang.
Recommend more places to eat and drink in Hoi An:
Mot Herbal drinks (150 Tran Phu)
Mussel crackers: Restaurant 9 (74 Nguyen Tri Phuong)
Mrs. Buoi chicken rice (22 Phan Chu Trinh)
Lien's Cao Lau (16 Thai Phien)
Sum's bread (149 Tran Hung Dao)
Tofu, curd with coconut pearl (along the way there was a lot)
Xoong Garden (83 Nguyen Phuc Chu)
– 14:00 pm, we went to Hai Van Pass, the check-in locations on Hai Van Pass include: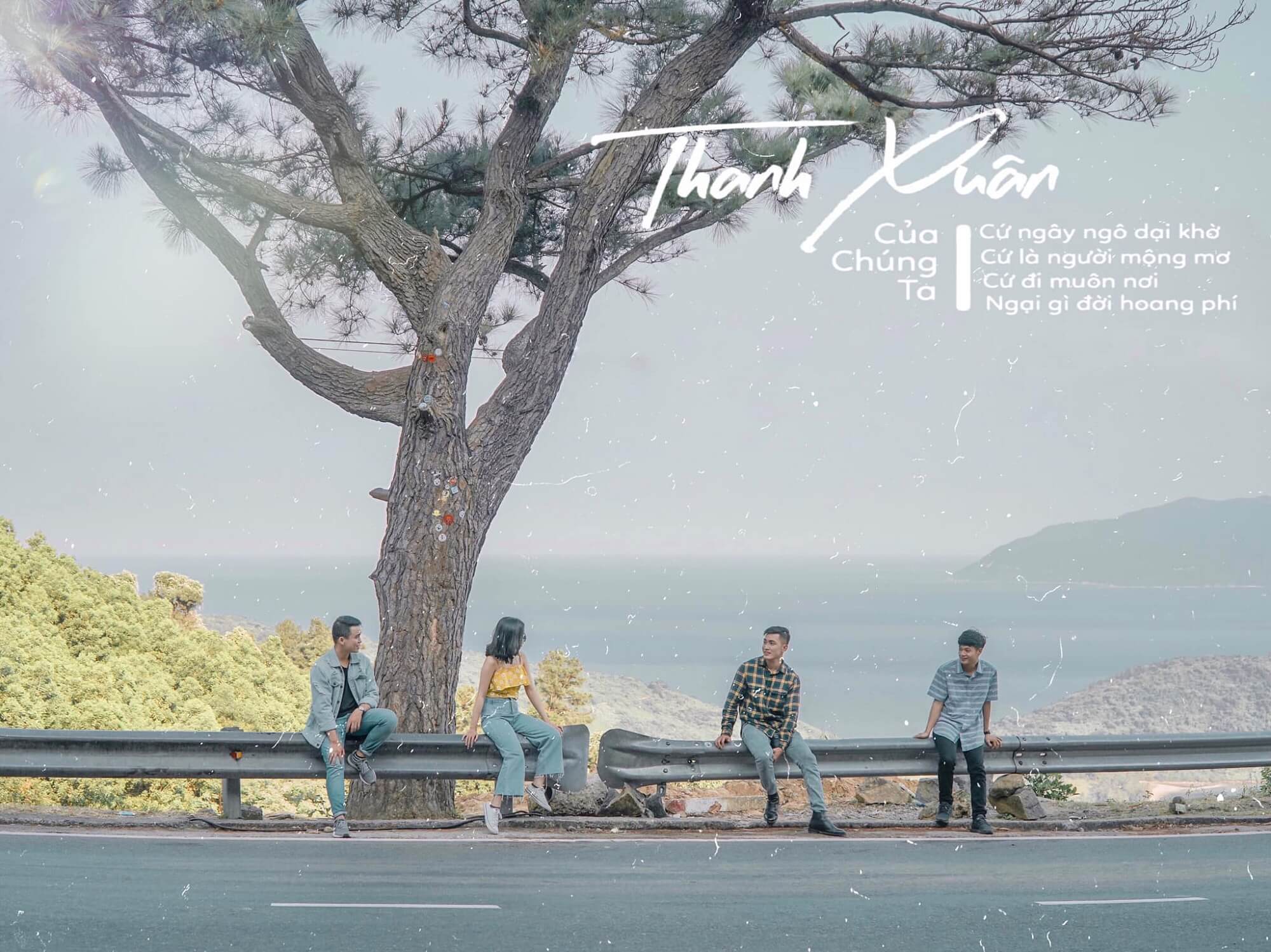 Lonely tree
Hai Van Quan (located on the top of Hai Van pass)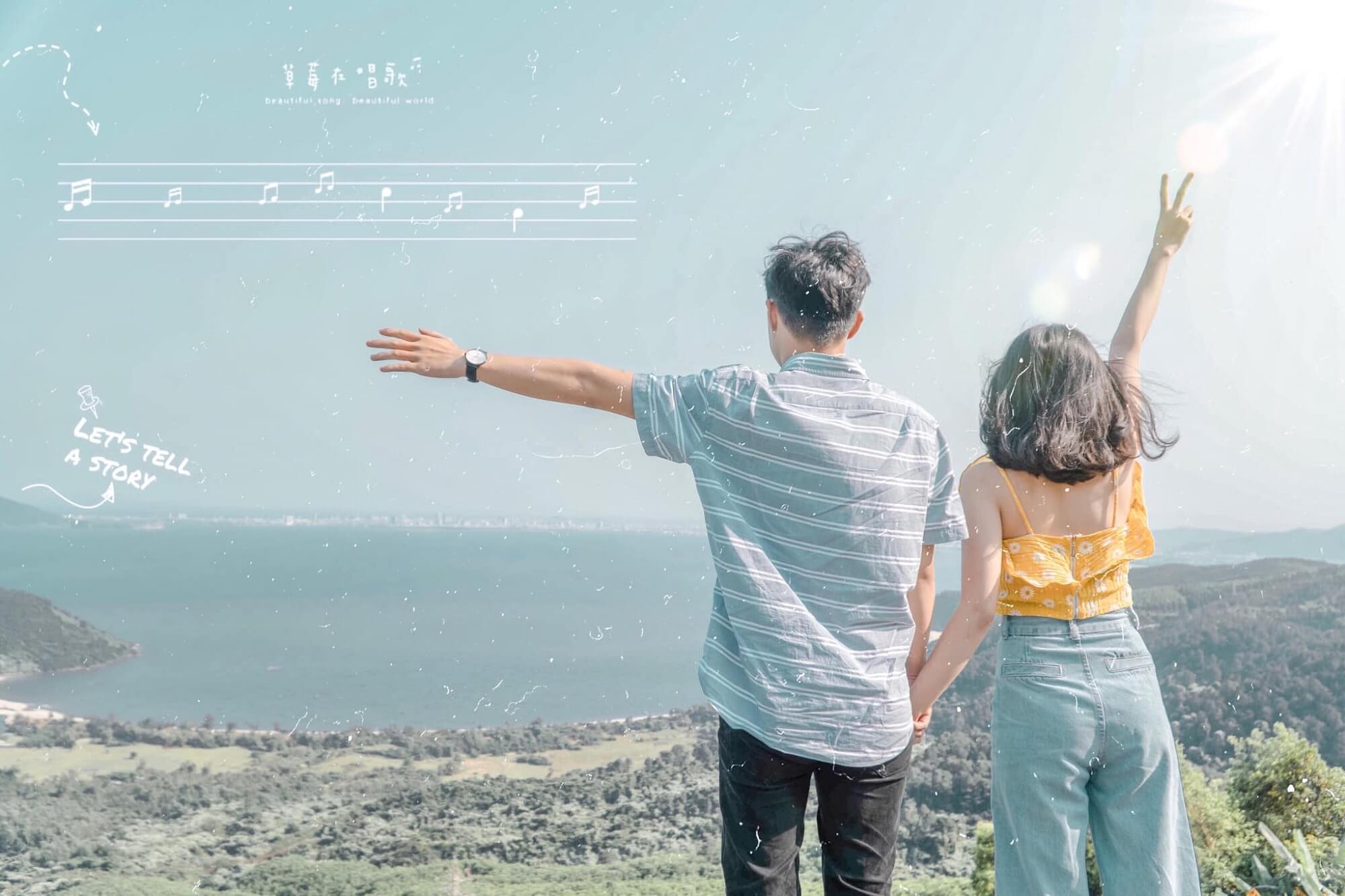 The cliff, you could have the panoramic view of the city (along the way there are several saleswoman)
– In the afternoon, I ate Banh Canh (at the end of Tran Hung Dao street, Le Van Duyet corner), only 10k/bowl.
– On Saturday night, we went to see the Dragon Bridge for fire.
– Then we had coconut beams in Da Nang: Ben Tre coconut shop (190 Bach Dang)
Day 3: Đa Nang
For breakfast, we had Baguette (alley 28 Chu Van An), 12k/portion. It was yummy, cheap, and there were also sticky rice, sugarcane juice and salt lemon.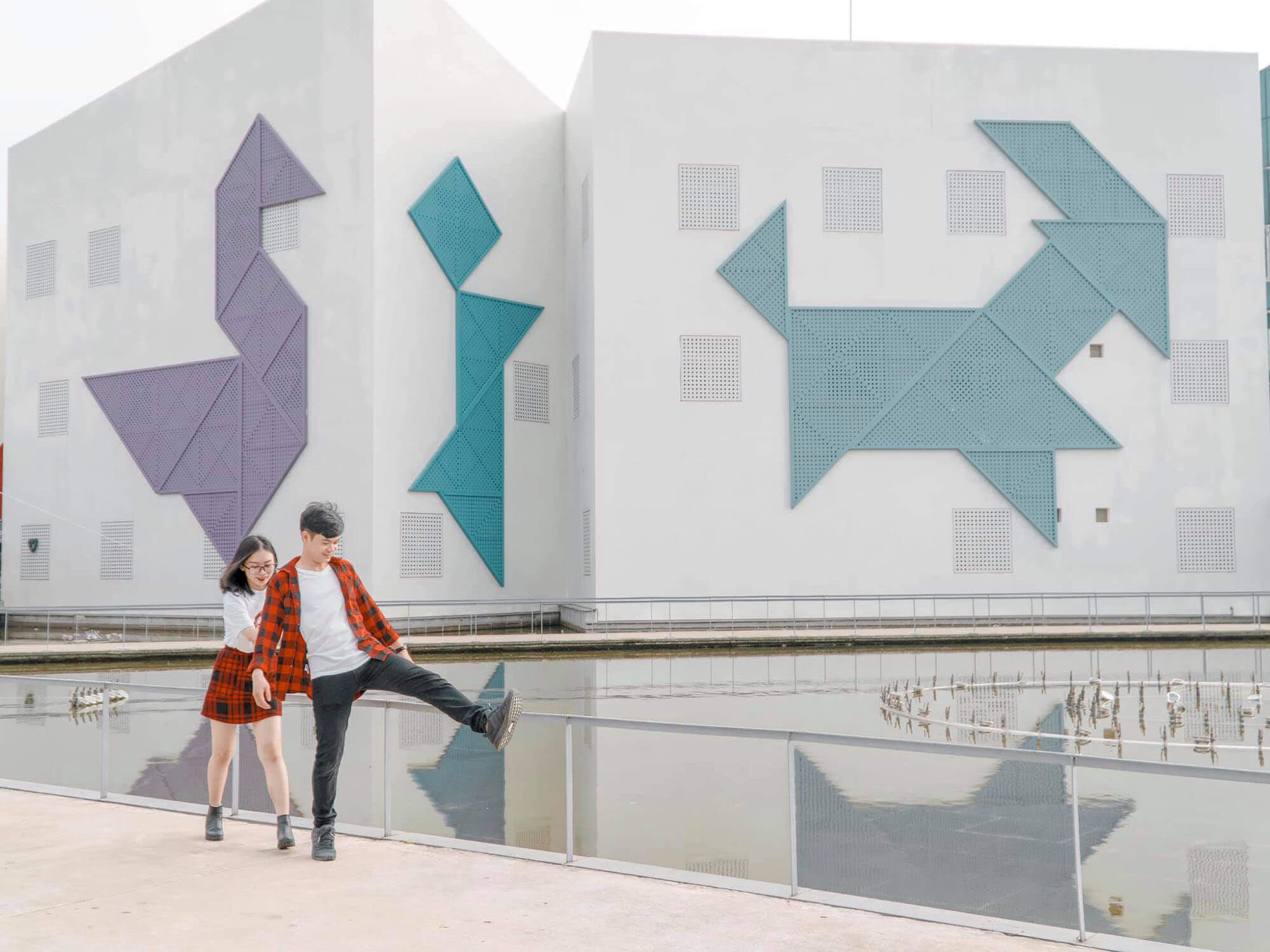 – Check-in the famous spots in Danang city such as: Love bridge, Ca Chep Hoa Rong Statue, palace of children's culture … ..
– Lunch at Con Market's food court (lots of delicious and cheap food)
– In the afternoon, we went to Son Tra Peninsula: Chess Peak, Linh Ung Pagoda, banyan tree …
– We had dinner at Hong Beef Hotpot (443 Dien Bien Phu). It was delicious, cheap and very good service. Then we had Xuan Trang sweet soup for dessert (31 Le Duan)
– It was Sunday, so at 11:00pm, we went to see the rotating bridge on Han River.
Day 4: Sun World Ba Na Hills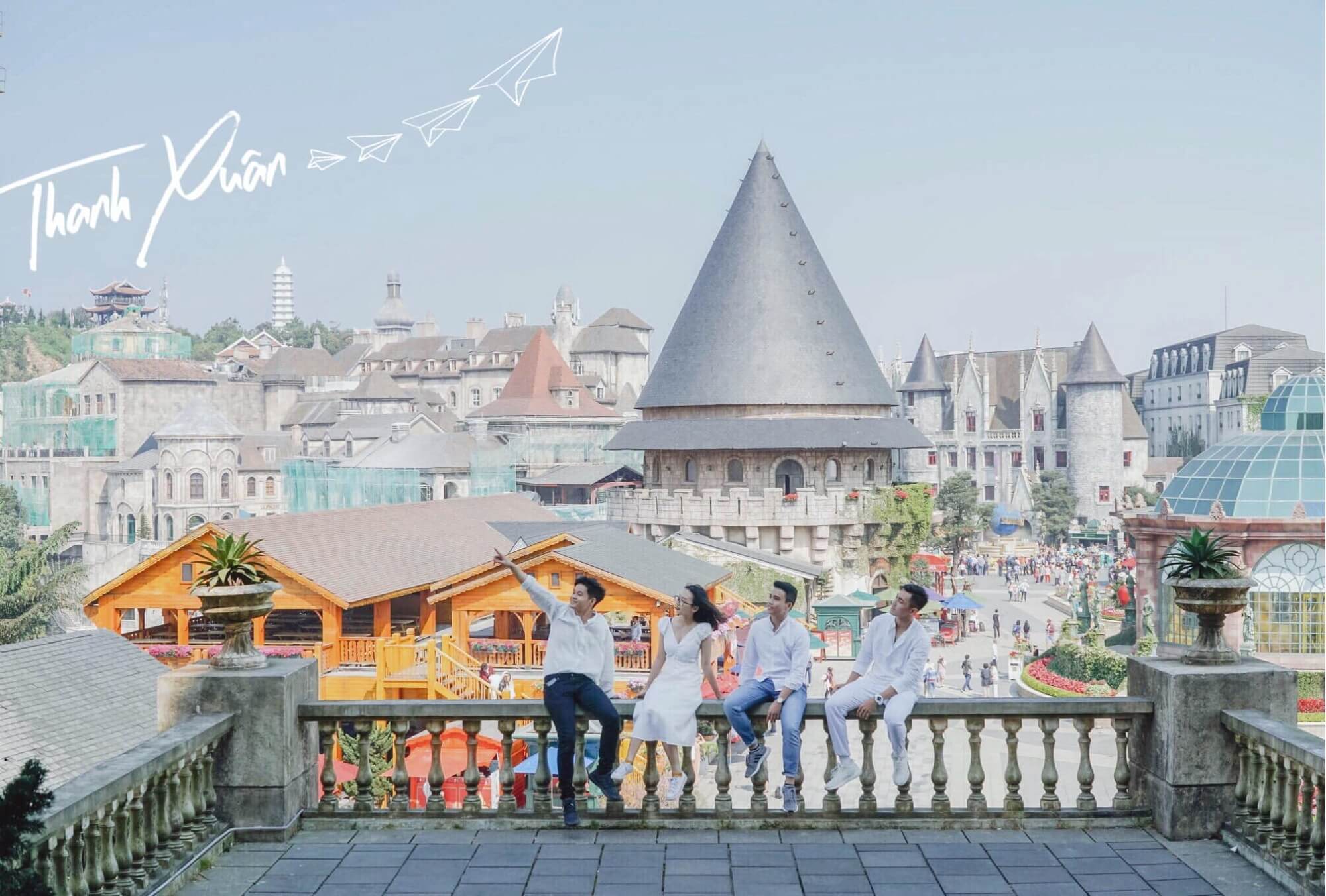 – You should be there on weekdays as weekends would be super super busy.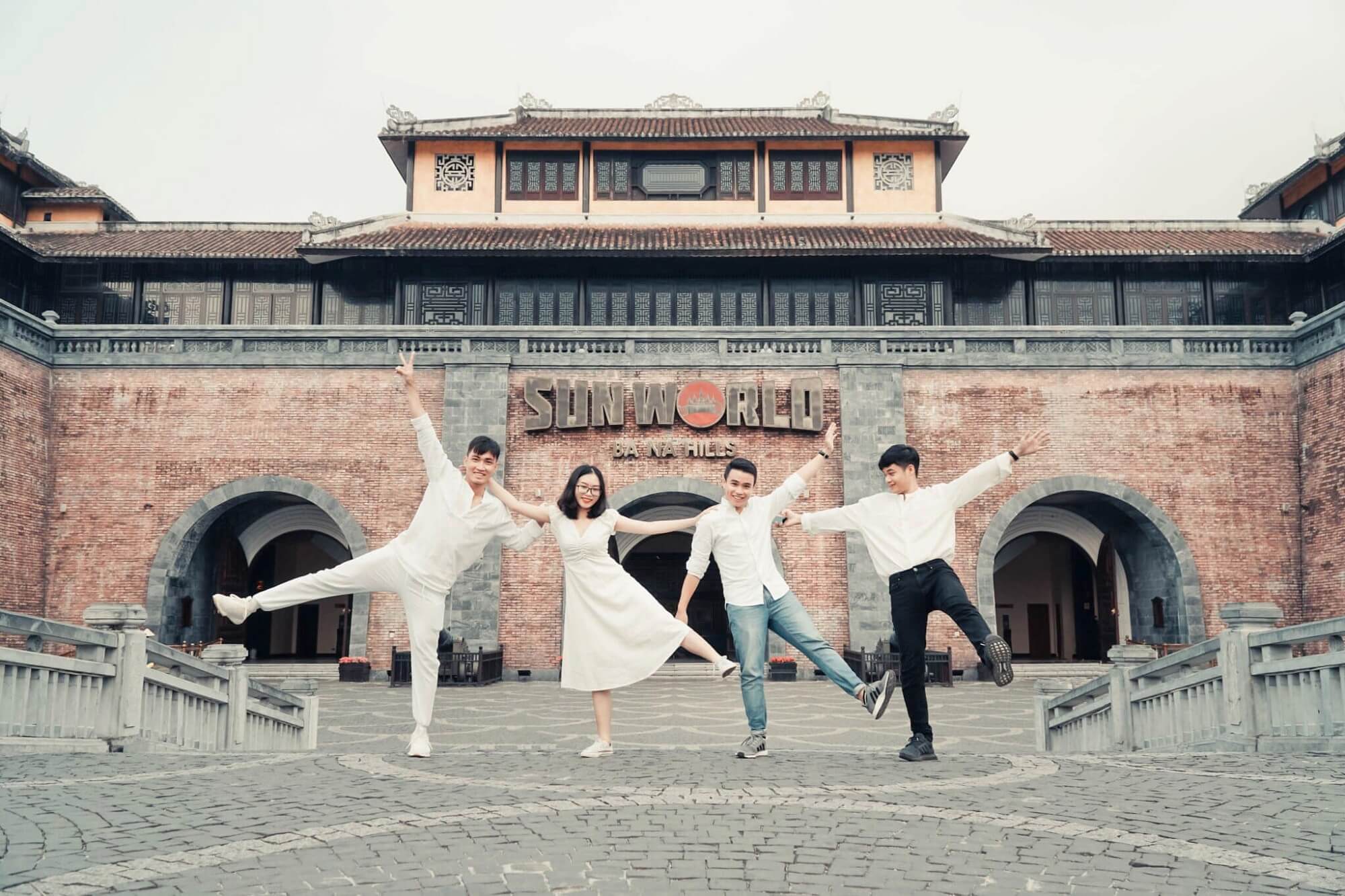 – We stayed all day in Ba Na Hills from 7am to 7pm. You should not miss Bana hills when you visited Danang.
Day 5: Come back home
– The most relaxing day of the journey. Breakfast, coffee.
– 15:00, flight back to Saigon. The end of the journey.
Recommend more places to eat in Da Nang:
Rice paper sandwiches: Aunt Hoang's restaurant (142/46/09 Dien Bien Phu)
Ba Duong pancake (K280 / 23 Hoang Dieu)
Ganh beef noodle soup (37 Ly Thai To)
Noi Café (K113 / 18 Nguyen Chi Thanh)
Ba Lan's bread (62 Trung Nu Vuong)
Bon Bon black sugar bubble fresh milk (78 Dong Da)
Among lots of destinations in Vietnam, Da Nang – Hoi An is always special and unique that you can hardly find anywhere else. Hopefully this review will be of great help to everyone!
Specials thanks to: Bích Hiền (@bichhien2312) – [Review] 5 Days 4 nights With Friends to wanderlust Da Nang – Quang Nam
Latest Posts