A trade village "making a miss" along National Highway 14B
Thanh Le – Nhu Hanh
With regard to the people of Quang Nam – Da Nang Province, Mi Quang (a Vietnamese rice noodle dish) is not only a dish with material nature but also a cultural and traditional symbol of the homeland.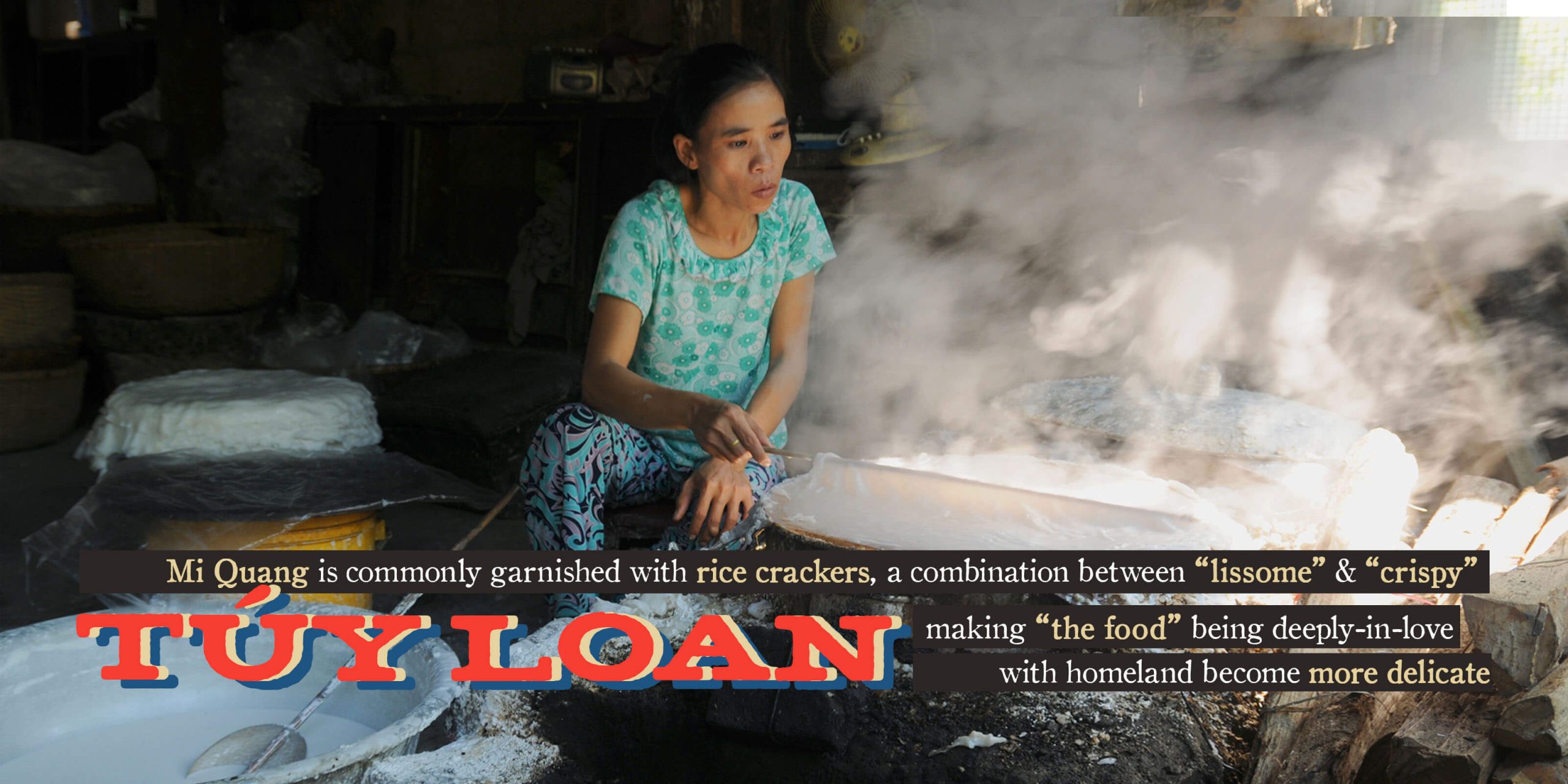 Mi Quang is commonly garnished with rice crackers, a combination between "lissome" and "crispy" making "the food" being deeply-in-love with homeland become more delicate.
The origin of Tuy Loan's Mi Quang and the soul of homeland's food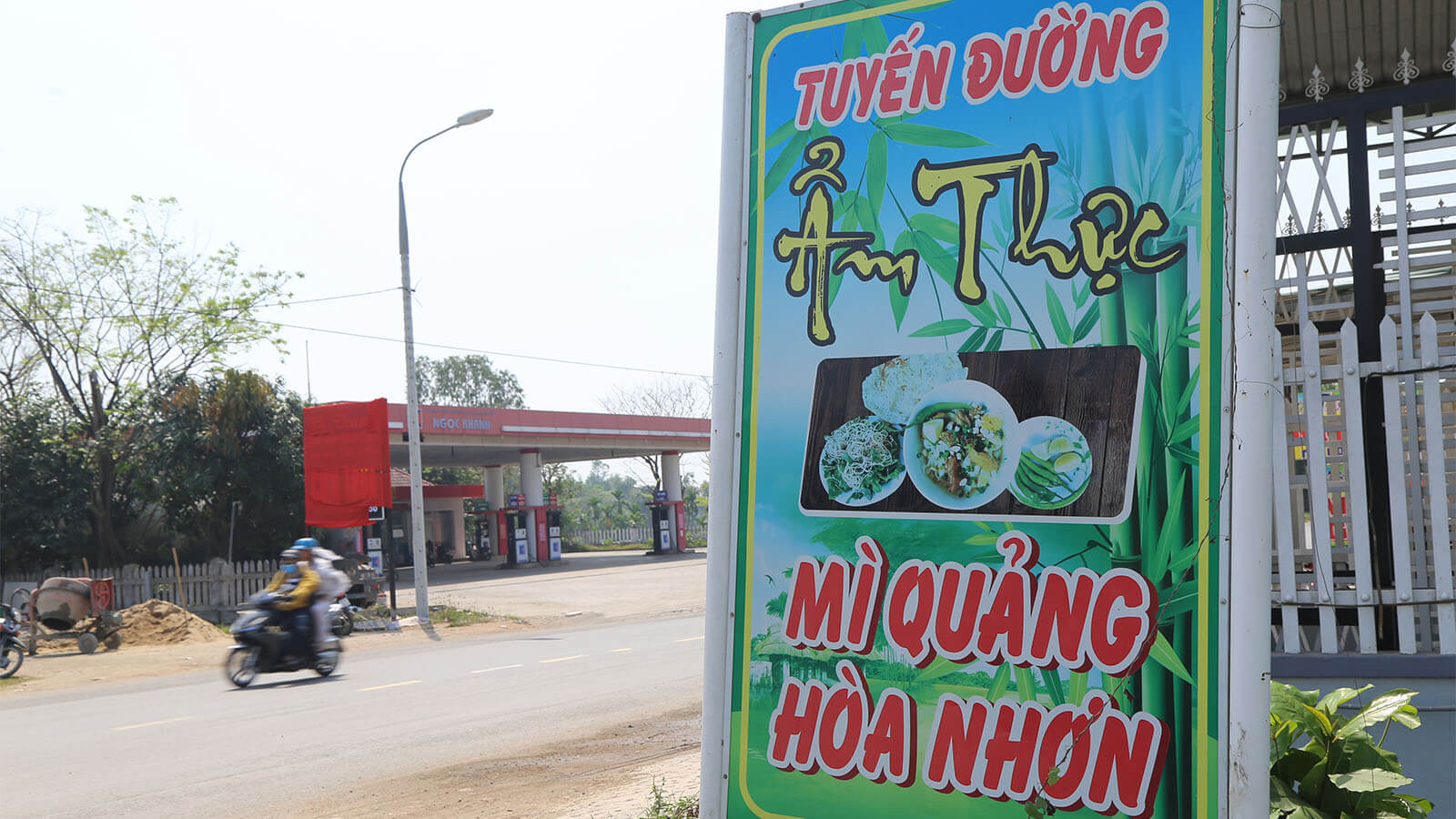 Visitors going along the National Highway 14B (new road) across Hoa Nhon Commune, Hoa Vang District, will see a range of roadside restaurants along 1 km road section highlighted by a signboard "Hoa Nhon's Mi Quang Food Street", or known by near and far visitors with the name "Mi Quang Street". Just a road section "going for few minutes then returning the old place" obtains about 15 Mi Quang restaurants situated closely to each other with beloved names such as: Ba Tinh, Thuy Chung,Vy, Nga, Phuc, Loan, etc.
As we know, for a long time, Tuy Loan's Mi Quang has been well known as "Da Nang's specialty" that makes many visitors from other localities come for try. Tuy Loan's Mi Quang originated for a long time and was well known together with sesame rice papers before 1975 under the name "Mi Quang Ba Tinh".
From Tho Ky slope on Quang Xuong Street (near present administrative headquarter of Hoa Nhon Commune) towards Ba Hu Bridge previously having Tuy Loan bus station, Mr. Pham Canh, Head of Phu Hoa 2 Hamlet, stated that, although the bus station was situated in the land part of Phu Hoa, the local people familiarly called Tuy Loan bus station as they "lived off" the name of Tuy Loan market famous for "everything was delicious" not too far away.
In 1957, a woman who lived near the bus station opened a small vendor mainly selling Mi Quang, contributing a "delicious dish" to Tuy Loan market. Her name in the birth certificate was Tan Thi Ut but everyone called her Mrs. Tinh (her husband named Nguyen Tinh). As being situated at a "breeding ground" position, which gathered different vehicle going to Da Nang City or traveling to Dai Loc District, the fame of "Mi Quang Ba Tinh" was spread everywhere.
Mrs. Tinh passed away in 2003, but the trade name of "Mi Quang Ba Tinh" has been still inherited by her offspring. Her son named Nguyen Dai Minh – present owner of "Mi Quang Ba Tinh" on National Highway 14B (old road) said that the tip for obtaining delicious and soft noodle as taught by his mother is to select the rice kind 13/2 produced from non-alum sandy soil in Dai Hiep Commune, Dai Loc District, Quang Nam Province.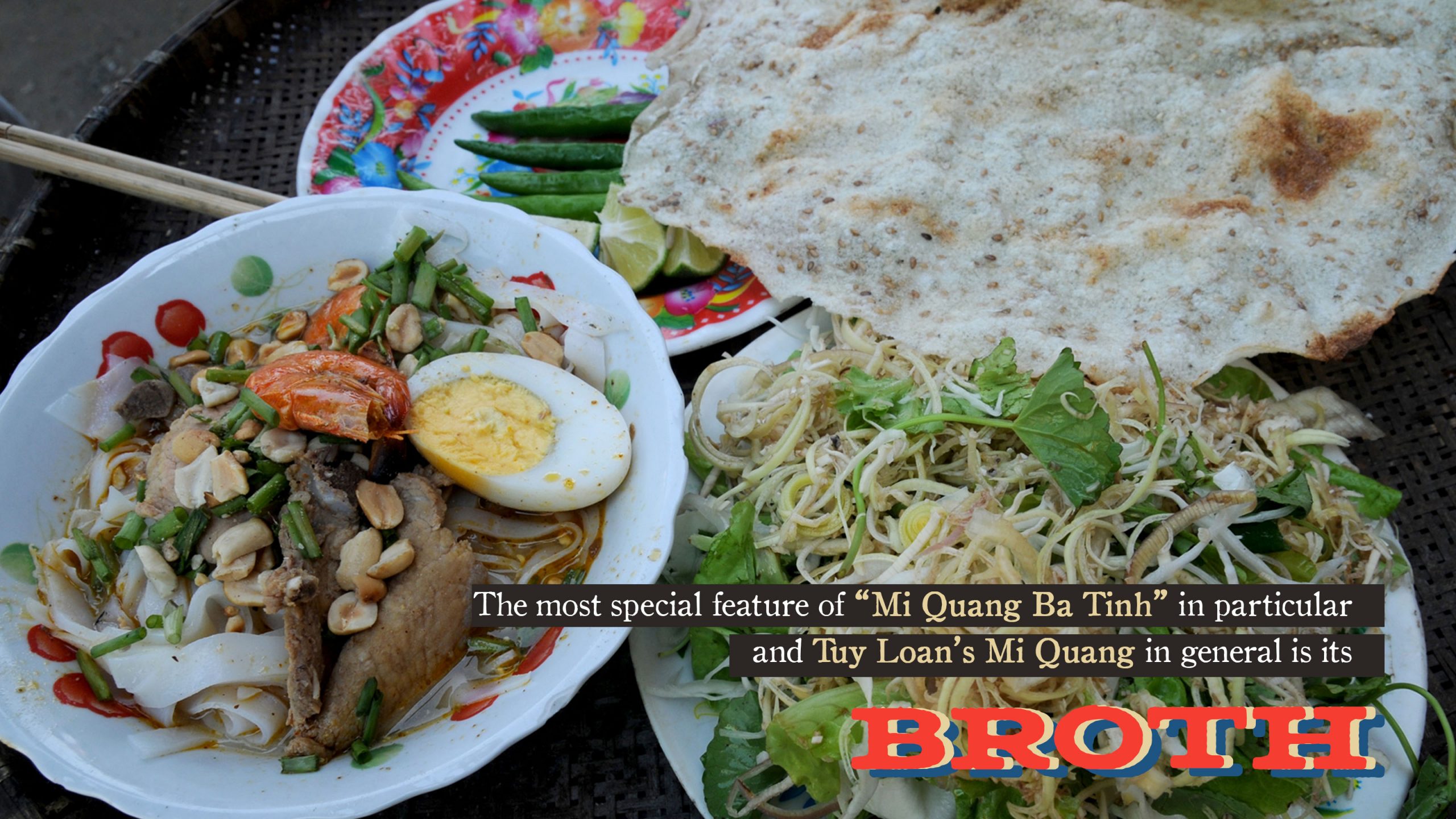 However, the most special feature of "Mi Quang Ba Tinh" in particular and Tuy Loan's Mi Quang in general is its broth. Although its broth is made from fish, chicken or beef, it must ensure the criteria "locally-raised chicken, fish and beef". Vegetables and herbs are almost originated from Thach Nham field (Hoa Nhon Commune), Bo Ban (Hoa Phong Commune), peanut oil and peanut are provided by farmers from Hoa Khuong Commune, etc. Rice crackers used with the dish shall obtain such five seasonings as: fish sauce, salt, sugar, garlic and sesame which are served with a fixed ratio to obtain its special taste rather than anywhere else.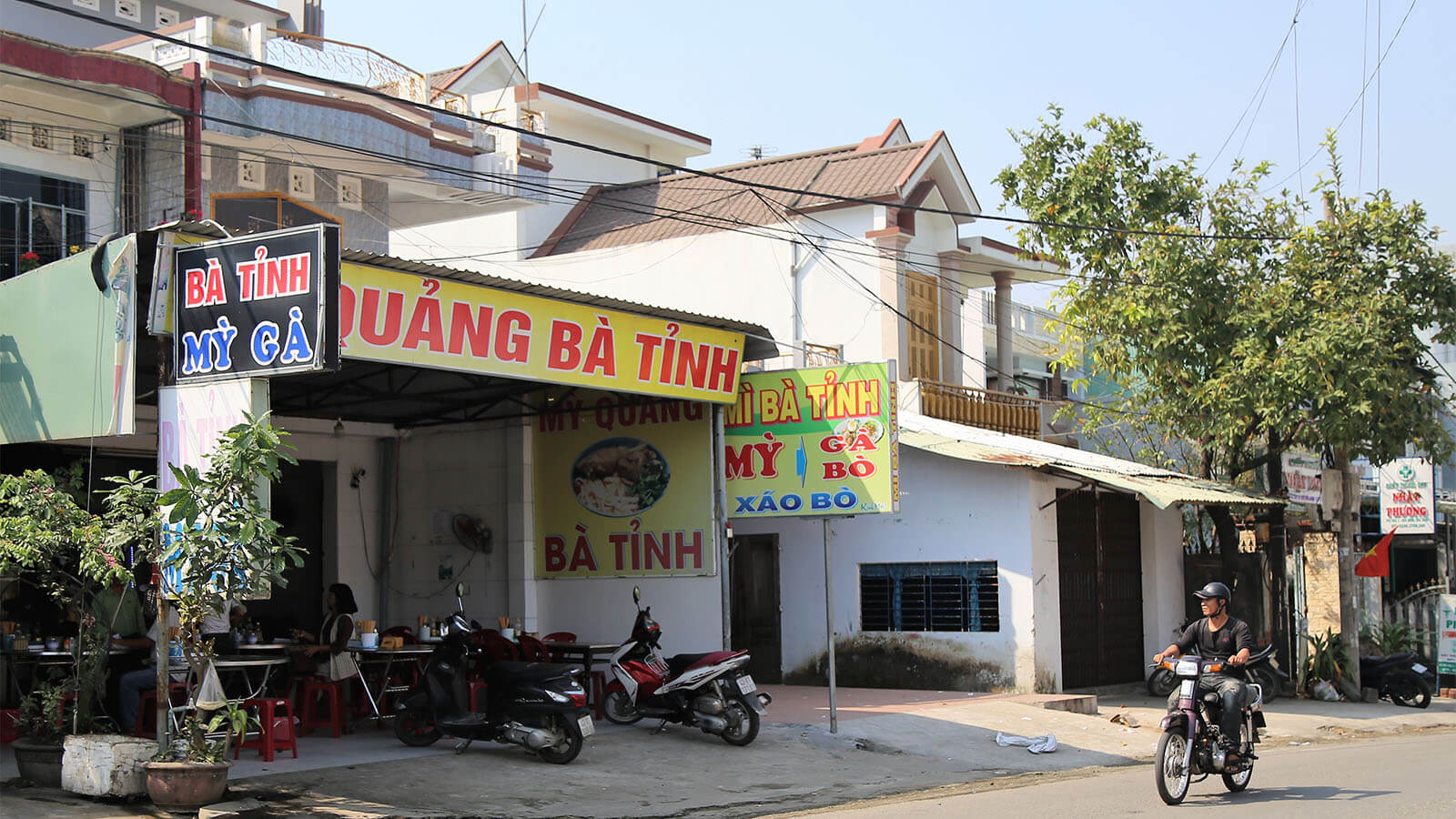 From a small vendor near the bus station more than 60 years ago, "Mi Quang Ba Tinh" has presently become a famous trade village of Mi Quang – rice papers in Hoa Vang land. Visitors coming and raising a steaming hot bowl of Mi Quang served with fresh chili peppers and roasted rice crackers shall feel a special taste of homeland. Many people say that all the essence of Tuy Loan's Mi Quang is originated from the advantages of Tuy Loan River which is full of shrimps and fishes during four seasons; bland-flavor rice with river deposit; luxuriant vegetables and fruits, etc. And, it seems that the God offered Tuy Loan people with talented hands to make a unique taste of the bowls of Mi Quang.
There were many Tuy Loan people coming to Saigon for career commencement, as they missed the homeland foods, they decided to open restaurants trading in Quang's dishes, of which "Mi Quang Tuy Loan" was a key gamut. To guarantee a pure taste of Tuy Loan, those restaurants' owners must buy all materials from Tuy Loan. All including sesame rice papers, commonly used herbs such as coriander, basil, fresh mustard, fresh chili peppers and peanuts, etc. must ensure "made in Tuy Loan" to retain the soul of homeland dish.
The good taste of rice crackers
Saying about specialties, maybe nowhere in Da Nang can "pass" Tuy Loan land, presently Hoa Phong Commune, Hoa Vang District. Contributing to raise the fame of those "hundreds of specialties" there are kinds of cake which have been raised up to level of "arts of food" as they are made by talented hands of Tuy Loan women, of which soft rice paper is presently the most popular food at Tet in Tuy Loan.
In 2016, the Economics – Infrastructure Division of Hoa Vang District carried out a project on recovery of traditional trade village, Tuy Loan village had about 20 households making rice papers but no one dared to join it for long time. Eventually, the two households of Mrs. Dang Thi Tuy Phong and Mrs. Dang Thi Tung were "brave" to accept and each of them was supported with 30 million VND, including flour mills, vacuum extractors and some production tools. Mrs. Tuy Phong dries her rice papers by charcoal fires on a 3m-diameter knitted bamboo cage instead of drying them in the sun. Charcoal is stretched out under the cage and rice papers are dried by heat. She said, rice papers dried in the sun shall be "callous", despite of being roasted by charcoal fire, they shall not be crispy, spongy and sapid like those dried by charcoal. The gourmets who lightly bite a bit of rice paper will feel it was dried in the sun or by charcoal fire. However, for the rice paper to be sapid, it has to be roasted by charcoal not microwave oven.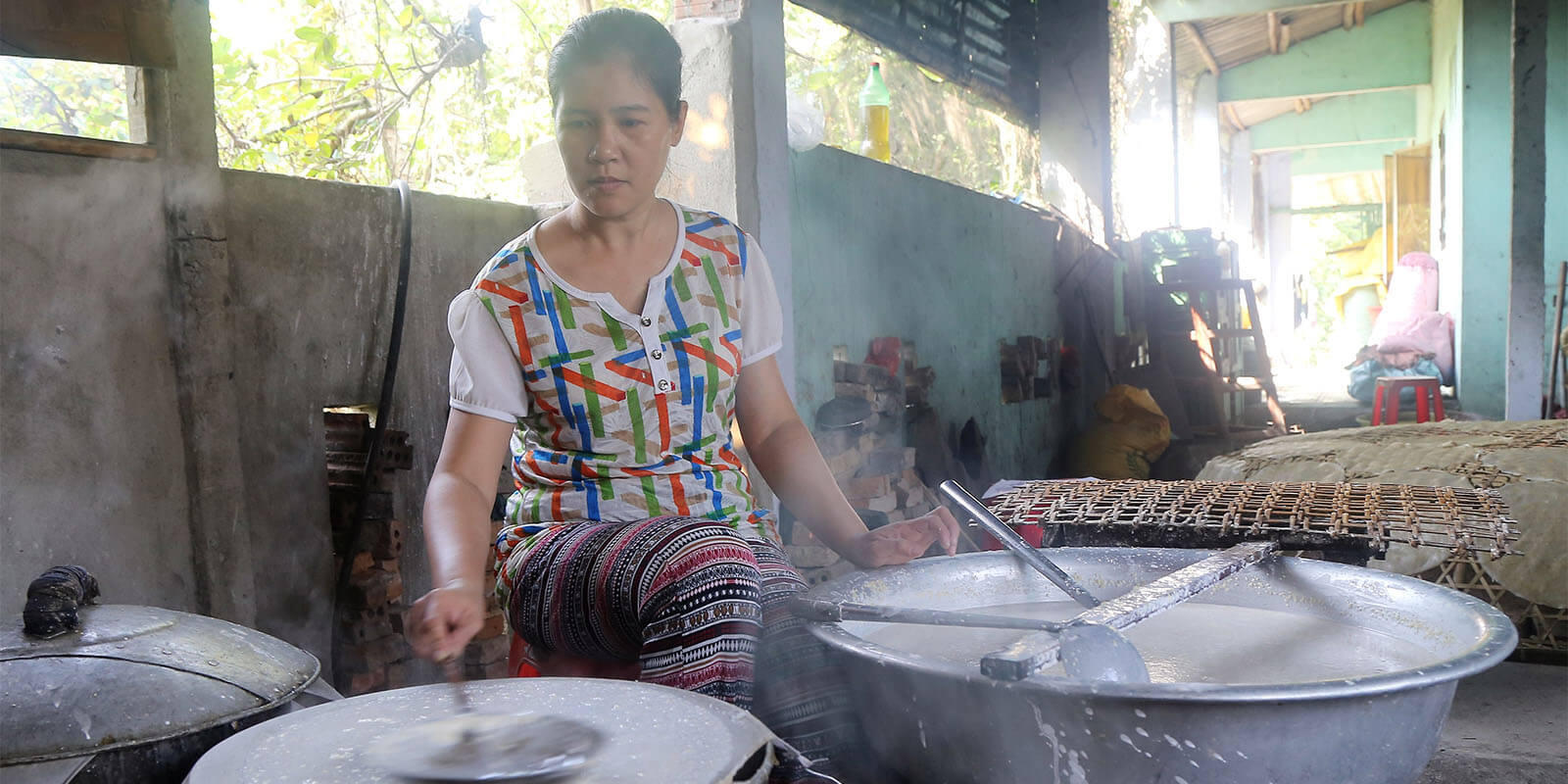 The diameter of Tuy Loan's traditional rice papers is about 30 cm, but Mrs. Phong has presently made its smaller kind with diameter of 20 cm for visitors to be easy to take away, roast and use. For which visitors want, we do it, Mrs. Phong said. She shall not add fish sauce and garlic into the rice papers for those who ordered plain ones. Some will require her to split the rice papers into two half-round parts so that they can easily bring the rice papers together with their flights, especially offer their relatives abroad at Tet holidays.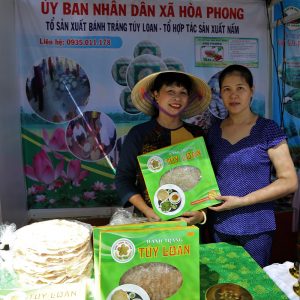 According to Tuy Loan people custom, on the occasions of Tet, National holidays, especially on the anniversary of the death, rice crackers are an offering which cannot be deficient on the ancestor's worshipping tray. Previous years, rice paper makers in Tuy Loan began stoking before several days near Tet, but since being supported by the Government, Mrs. Phong monthly produced from 3 – 4 angs of rice (1 ang ~ 10kg) for rice paper making.
Tuy Loan's rice papers currently are not strange to near and far visitors. The Museum of Da Nang, at the exhibition of typical handicrafts, has introduced a renewable space of the three typical trade villages in Da Nang, including: the trade village of Tuy Loan rice paper making, the Non Nuoc Stone Carving Village, (Hoa Hai Ward, Ngu Hanh Son District) and the trade village of Nam O Fish-sauce making (Hoa Hiep, Lien Chieu District). Especially, the river route along Han River – Tuy Loan – Thai Lai gained various traditional cultural value, comprising Tuy Loan Village Temple historic – cultural heritages, Tich Thien Duong ancient houses, Tuy Loan rice paper trade village, and Village Temple's festivals, etc. which are suitable for the development of river tours in association with the discovery of countryside village ecotourism.
Address: 28th Floor, Danang Administration Center, 24 Tran Phu Street, Hai Chau District, Danang City
Email: tapchidulichdanang@gmail.com
Contact: 0236.3840.019 (meet Mrs Que or Mrs Thao)
Service pack information on Magazines
Latest Posts