Update On The Situation Of Prevention Of Covid-19 Epidemic In Da Nang City At 08:00 Am On 23/04
Stop operation for road control entry and exit points. From 08h00 on 22/4 to 08h00 on 23/4, there were no cases of infection or suspected COVID-19 infection in Da Nang city. Simultaneously discharge 01 case of Vietnamese suspected COVID-19 infection.
Update data of suspected cases, COVID-19 infection to 08:00 on April 23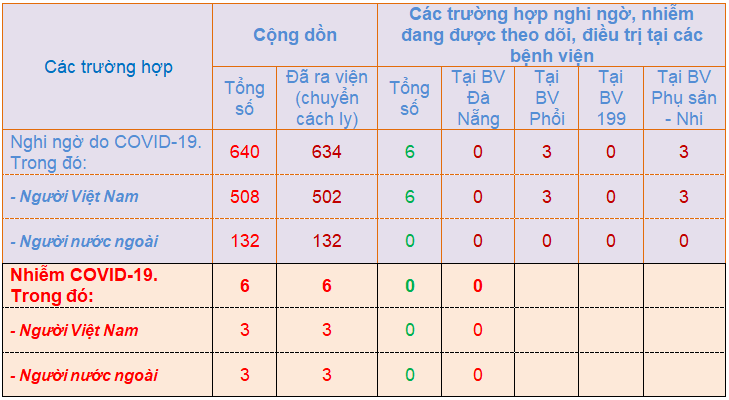 A total of 4.454 NEGATIVE tests for Covid-19. A total of 6 POSITIVE cases of SARS-CoV-2.
– The health of suspected COVID-19 infections is stable and is being closely monitored.
– On April 22, the Center for Disease Control supervised 05 ships with 100 people on entry. All have medical reports.
– Continuing to implement the prevention of COVID-19, on April 22, the City People's Committee issued Official Letter No. 2655 / UBND-VHXH. Accordingly, the City People's Committee loves to continue to strictly, subjectively, relax social measures and COVID-19 prevention and control directions of the Government, the Ministry of Health and other central agencies. Centralized. Da Nang has also temporarily stopped organizing isolation from citizens from Hanoi and Ho Chi Minh City since April 23, 2020 but must guide health monitoring. For those who are from high-risk epidemic areas, isolation will be conducted at home and residence as from April 23, 2020. Continue to maintain medical control and supervision activities at airports, seaports, train stations; stop operation for road control entry and exit points.
Read more here https://soyte.danang.gov.vn/chi-tiet-tin-tuc?dinhdanh=66201&cat=0
Latest Posts