Da Nang People's Committee Chairman Le Trung Chinh on Monday morning, September 20, joined an online meeting which discussed the best strategies to tackle nationwide business challenges in times of COVID-19. In the online meeting chaired by Vietnamese Deputy Prime Minister Le Van Thanh, Da Nang leader highlighted key role of businesses in driving the city's economic growth and supporting the city's fight against COVID-19.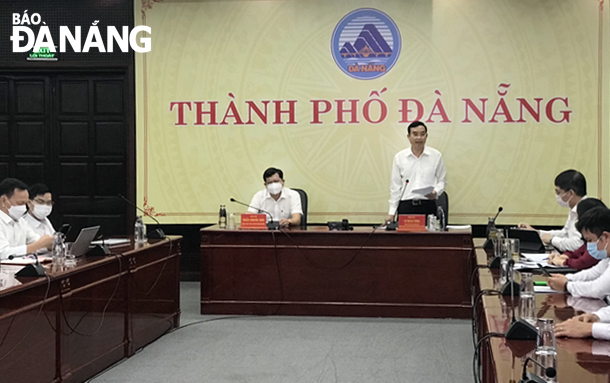 Da Nang has prioritized inoculating all staff of businesses under its COVID-19 vaccination drive in a bid to help them keep their production stable and ensure timely product deliveries, Mr Chinh remarked.
He also said that the city has created the most favouravable conditions for businesses to expand production as soon as the virus has been brought under control.
Chairman Chinh added that a Business Dialogue is expected to take place in Da Nang in late September which will focus on some major issues, including answering questions raised by the local businesses and finding ways to drive their growth .
The Da Nang leader also stated that the city has implemented a number of policies to support businesses. Included are faciliating them to access loans from the Da Nang branch of the Viet Nam Bank for Social Policies and the Da Nang Development Investment Fund to pay salary compensation for their employees who were laid off or increase production.
Chairman Chinh thanked Viet Nam's national government and nationwide localities for their active support given to Da Nang to tackle COVID-19 and promote its economic development.  He also asked the national government to prioritize distributing enough COVID-19 vaccines to the city in order to enable it to inoculate all local workers of companies.
Mr Chinh also suggested that the national government should issue even more support policies, such as lowering land rental rates, reducing corporate income tax, personal income tax , value added tax, reducing social insurance contribution rates and electricity prices due to COVID-19. In particular, it is necessary to have more policies to support tourism businesses which have been heavily hit by the COVID-19 pandemic.
Deputy Prime Minister Le Van Thanh praised Da Nang for their reasonable and active efforts in providing support for local businesses to drive the coronavirus economic recovery. The national leader urged other localities nationwide to create action plans to help their local businesses grow and recover from the disruption of the COVID-19 pandemic.
Mr Thanh also said that a large volume of Covid-19 vaccines will be distributed in natiowide localities that will be enough to inoculate all workers of businesses in their locales.
Deputy Prime Minister Thanh called on People's Committees across the country to take proactive action to create their own economic recovery planning amid COVID-19 crisis with a focus on holding dialogues with businesses to help them overcome difficulties brought by the pandemic in an attempt to drive their economic recovery.
Reporting by MAI QUE –Translating by H.L
Latest Posts