Over the past 25 years, the time-honoured profession of serving passengers onboard boats operating on the Han River, Mr. Dang Hoa, An Hai Dong Ward, Son Tra District, Da Nang, the owner of 2 Han Giang tourist ships operating on the Han River, has always longed to know how to fully tap the great potential and beauty as well as strengths of inland waterway tourism of Da Nang.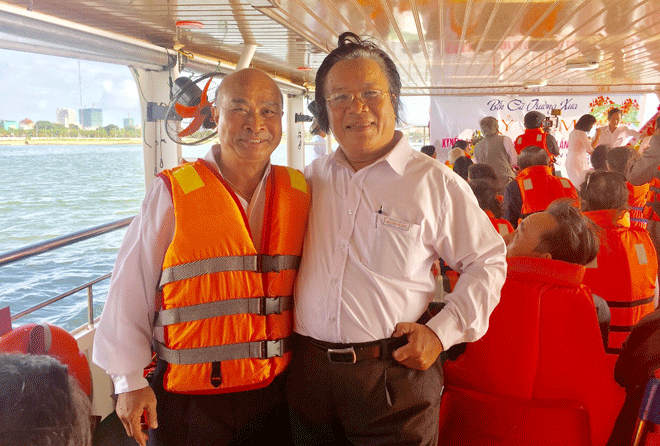 Along with the city's tourism development, over the past years, how to develop the iconic Han River into an impressive night-time tourist attraction has always been the top-of-mind issue to him.
"I have been to many places nationwide and finally found that Da Nang boasts many advantages to promote waterway tourism. This city is, in reality, naturally blessed with many beautiful places and diverse river systems comprising the rivers of Han, Cu De, Cam Le and Co Co. All of these rivers are not only beautiful in terms of natural landscapes but they also possess a rich cultural history. If fully tapped, it can be considered to be a strong point of Da Nang tourism", said Mr. Hoa.
Initially, in 1996, Mr. Hoa possessed only one tourist boat which was built via bilaterial cooperation with the Danatour Tourism Company under the Department of Tourism. During the "peak" period of Da Nang tourism, Hoa completed the building of up to eight ships in service for tourists.
Dubbed as one of the pioneers in "exploring" waterway tours in Da Nang and Cu Lao Cham – Hoi An in Quang Nam Province, Mr. Hoa left many good imprints on local residents and tourists.
According to Mr. Hoa, in order to develop sustainable tourism, it is necessary to implement many necessary factors such as building environmental landscapes, promoting historical culture and training tourism human resources.
"Over the years, I have introduced all passengers onboard my tourist ships to the Han River and beautiful bridges, and all of them were very satisfied with my presentations. In order to promote the image, people and brand of Da Nang to domestic and foreign tourists, tour guides must enhance their qualifications and rich knowledge of culture and history", affirmed Mr. Hoa.
In the two years, 2020 and 2021, COVID-19 has adversely affected the city's economy and the tourism industry in particular. However, Mr. Hoa and other tourism service providers still hope that, after the pandemic is over, Da Nang will retain its time-honoured stature as a favourite destination for domestic and foreign tourists. Therefore, it is high time for the tourism industry, in addition to developing new products in service for guests, to pay more heed to giving a facelift to the local waterway tourism.
At the age of 65, Mr. Hoa is still very concerned about when it comes to how to make Da Nang tourism more new and impressive, especially in the field of river tourism services, in the eyes of tourists.
Now, as the Chairman of the Da Nang Tourist Ship Transport Association, Hoa holds the strong belief that, once the current coronavirus is put under control, the city will see bustling vibes with crowds of tourists near and far and the Han River tour will be more highly inviting with many useful programmes.
As planed in the near future, Mr. Hoa will re-publish the book 'Da Nang River Tourism', which was first published in 2005 at the order of the Da Nang Department of Tourism. The new book will highlight many outstanding changes in the city's appearance, especially its tourism infrastructure and many night-time tourism project, thus helping those who operate river tours gain more knowledge so that they can help tourists understand more about Da Nang.
With his great contributions, in 2020, Mr. Hoa was awarded a certificate of merit by the Da Nang People's Committee for his outstanding achievements in  patriotic emulation movements in the 2015- 2020 period. In 2021, the man was one of the 63 most excellent Vietnamese farmers in Viet Nam.
Chi Giao
Latest Posts